Upperclass Spotlights From Texas
Posted
2 years 4 months ago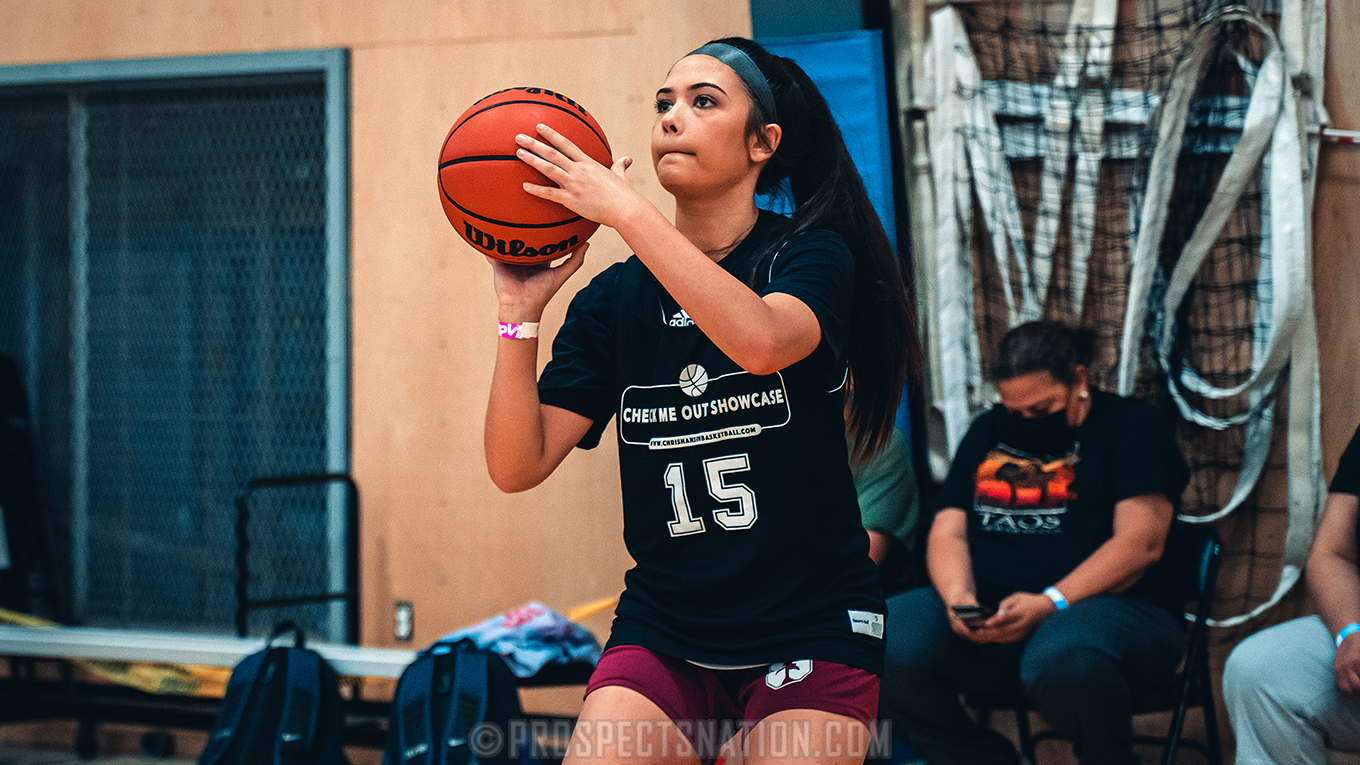 Ramsey Robledo works on her shooting mechanics during the BCT Spotlight Session at the Check Me Out Showcase. *Photo by Anthony Lugardo.
AUSTIN, Texas – The Check Me Out Showcase is amongst the elite when it comes to premier individual showcases throughout the year inside the state of Texas. With elite level talent coming from as far away as Iowa and Washington to take part, there was no doubt that the event director Chris Hansen had the place to be for new faces and established names alike this weekend. Brandon Clay Spotlight Shooting Sessions held before hand are designed to give prospects a chance to work on their shooting technique specifically prior to the start of the event:
Arroyos caught the attention of National Director of Scouting, Jonathan Hemingway, with her shooting here. Hemingway said, "Arroyos has a nice shot when she's set and ready. Working on her footwork on the move will only enhance her shooting ability." After working with her, I have no objections to that statement and also believe that a higher shooting pocket will only help get the ball up on her release as well. She has a nice starting toolbox to work from.
Shayne Burton (Hubbardston, Mass.), Winchendon School – 2023
Burton is a fantastic option off the ball. She has gotten in on-floor reps back home with our National Director of Training, Sean "Sticks" Smith. In time, she has the tools to be a legitimate shooter off of the penetrate and kick action. Burton was in the area visiting family and wanted another chance to grow her game. She keeps her jumper straight and on the line with the basket. Working on a nice, tall one-second follow through is the next step in her shooting progression.
Annalia Cuellar (San Antonio, Texas), John Paul Stevens – 2023
A left-handed shooter, Cuellar showed a nice release. The basketball comes out of her shooting mechanic consistently. Keeping an eye on her right guide hand to ensure that it doesn't block her shot will be a major key going forward. Cuellar has the foundation to be a consistent threat from the outside based on what she showed our staff here.
DeVaughn showed me right away that she has the aptitude to take high level coaching and instruction then start chipping away at making the adjustments given. Her speed and athleticism will set her up for plenty of opportunities to take advantage of defenders playing it safe allowing her an outside shot instead of a layup. For DeVaughn, ensuring that her shot is the same every possession will allow her a chance to be a consistent threat.
Asilika Fonua (Euless, Texas), Higher Goals – 2023
Fonua has nice size on the wing. Another observation from our first time talking about her shooting mechanics is that her release comes out high and online with the basket more times than not. Fonua can keep building her shooting pocket just above her waist which should let the ball come out even more consistently with a tall release landing soft on the rim if the shot isn't all net.
Yessika Garza (Devine, Texas), Devine High – 2022
This was my first chance to get on the floor with Garza. She showed a solid foundation to build on here. For Garza, starting with her knees bent and hands in the shooting pocket will give her an edge over her defense in getting her shot off quick. It will also help to ensure a smooth, one motion shot over the next 12-18 month run. If Garza will stay in attack mode, then she never has to get ready.
Addison Iden (San Antonio, Texas), Player First – 2023
This was my first time working with Iden on her shooting mechanics. Given her length and mobility, there is no reason why she can't be a nice floor spacing option at the forward position during her college career. When Iden held her follow through with her elbow above her eye, the result was a very high percentage shooter. In the cases where Iden's shot release line dropped so did her overall shooting percentage.
Abigail Killeen (San Antonio, TX), SA Lady Hoops – 2022
This was my first time training with Killeen. She has good size and can really utilize that by being an effective face up jump shooter from 15 to 18 feet if not the 3-point line. Killeen has a soft touch on her shot while showing active feet on the one bounce drills that we did as well. In that regard, she has the tools well suited to be a frontcourt threat in the modern game.
Simply put, McDermed is a gym rat. After a fantastic showing on Friday night, the sharp shooting guard showed improved mechanics from this same academy in 2020. McDermed's release point in considerably higher and it's resulting in made shots. Going forward, she can keep working on her consistency holding her follow through over the next six months as she heads into her senior season.
Kylee Norman (San Antonio, Texas), Player First – 2022
Norman's energy in the shooting was so infectious that even our Director of Digital Media, Tony Lugardo, even made a comment about how great it was to have Norman in our workout. Skill wise, Norman has a nice release on her shot. It's both smooth and easy which allows her wrist to finish floppy in the rim. Making sure that the ball leaves her hand from her fingertips and not out of her palm is a detail worth watching the next few months for Norman.
Julia Plata (San Antonio, Texas), SA Finest Ki Will – 2023
In our first time working with her, it was evident early on that Plata can let it fly. When she misses, it's usually due to her shooting elbow not being on the same line with her wrist. When that elbow is locked in underneath that wrist, her shot gets the high release point and subsequent flight it needs to go in more times than not.

After getting the weekend off to a great start with her work on Friday night, Robledo came right back paired with two elite members in the class nationally in Jenna Villa and Sammie Wagner. Robledo's ability to go shot for shot with anyone in the group speaks to the work that she's put in since our time together in 2020. Her smooth demeanor is perfect for a shooter as Robledo moves on to the next shot quickly.
The improvement on Santiago's jumper from last summer to this one was absolutely fantastic and gives her a foundation to build upon going into the July travel circuit. Santiago was working on not falling away on her shot this time year. Through time and work, she has eliminated that as an issue on her shot. The next phase of growth for Santiago is adding a consistent one-second follow through with both hands on every shot.

Villa's growth as a shooter has been incremental and steady since my first evaluation back in 2017. She's grown to a legitimate 6-foot-2 area and is on pace to be one of the premier shot makers in the country regardless next season of class or location. In the rare occasion that Villa misses consecutive shots, it's usually due to a single hand follow through or her fading off her base. When she's on base with a two-hand follow through, it's usually a bucket waiting to happen.
Wagner has all of the physical tools to be a really good jump shooter capable of making eight to nine shots out of ten in most racks of our shooting drills. Sticking to the details of what it takes to ensure a high two handed followthrough as well as starting in pocket is the next place for Wagner to grow her shot. Her shot looked considerably more consistent in the last 10 minutes of the session.
Brandon Clay serves as the Director of Scouting for ProspectsNation.com and owns The BrandonClayScouting.com Evaluation Report, which is read by more than 200 colleges and universities nationwide. He also serves as the Executive Skills Director for the Brandon Clay Scouting Academy Series.