Posted
6 years 5 months ago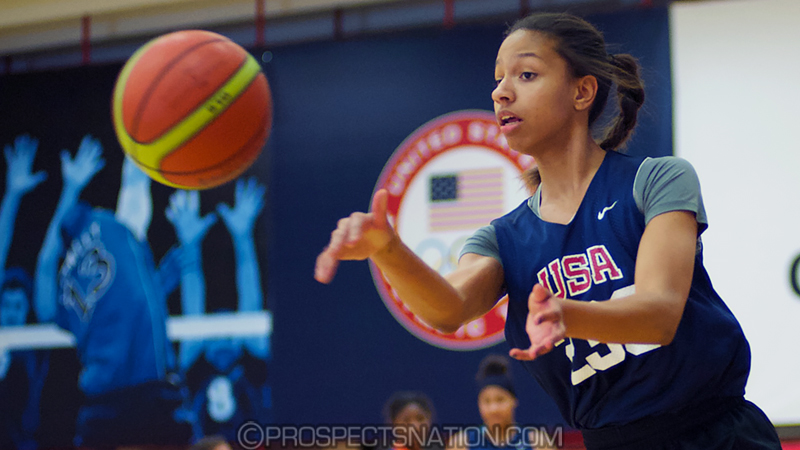 Christianna Carr of Eden Prairie, Minn., has the size and skill to make an impact here at USA U16 trials. *Photo by Chris Hansen.
COLORADO SPRINGS, Colo. -- The matchups off of the ball on the perimeter are just as competitive as any other position in the USA Basketball Women's U16 national team trials. There are several kids that we look forward to watching compete who should be in the mix to make the 12-player team:
Class of 2018 guard Christianna Carr of Eden Prairie, Minn., breaks a unique blend of athleticism and skill. Carr plays multiple positions. She's a bigger perimeter prospect who showed at the Elite Basketball Academy Fab Five Camp in September that she belongs in this discussion.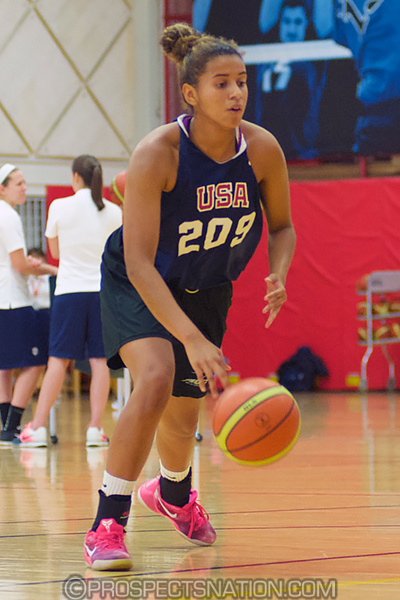 Class of 2017 wing Andra Espinoza-Hunter of Ossining, N.Y., could be the best spot up shooter in the bunch. She's a high IQ option on the wing more than capable of making multiple shots in a hurry. The future UConn Husky can earn a spot by making good decisions and amongst this talented group.
Katlyn Gilbert of Ind., has emerged as one of the top guards nationally in the class of 2018. The versatile guard is a capable scorer with size but also can handle the basketball in the half court as well. By displaying that skill throughout the weekend, Gilbert will give herself a leg up on the competition.
Taylor Kissinger of Minden, Neb., is in position to see her stock rise with a quality showing here. The class of 2017 forward is as big as any prospect in this group with a polished skill set to match. Her sister, Brooke, is currently at Illinois so Kissinger is fully aware of what the big stage entails.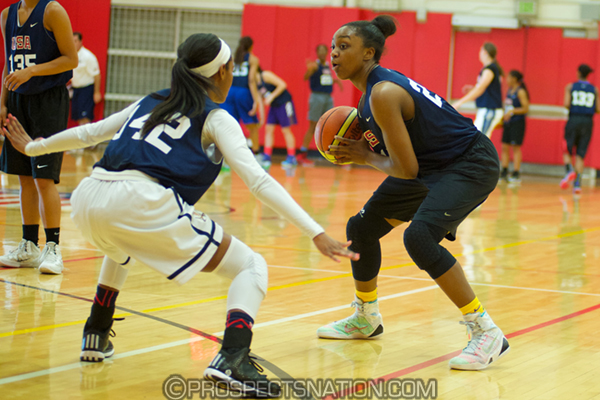 Class of 2018 wing Christyn Williams of Little Rock, Ark., showed well at the PeachStateBasketball.com Summer Invitational in 2014. A talented left-handed scoring prospect, Williams played her way right into an invite to Colorado Springs. In order to make the team, she will have to show that she's a willing perimeter defender and rebounder as well.
Playing against some of the nation's top players in the past year, class of 2017 wing Deauzya Richards of Cypress, Texas, is no stranger to the big stage. That said, she has not been a part of the USA Basketball process to date. Look for Richards length, athleticism and willingness to attack the rim to be crucial in her hopes of making the team.

Brandon Clay serves as the WNBA Director of Scouting for ProspectsNation.com and owns The JumpOffPlus.com International Report, which is picked up by more than 150 colleges and universities nationwide. He serves as the Executive Camp Director for the Elite Basketball Academy Camps. He serves on the Naismith Trophy Men's / Women's College Player of the Year Academy and is chairman of the HS Boys / Girls Board of Selectors.