USA U17 Trial First Impressions
Posted
6 years 9 months ago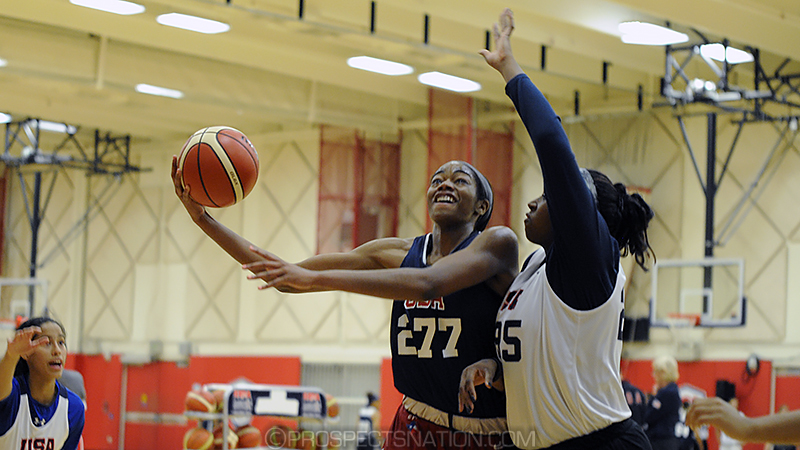 Charli Collier of Mont Belvieu, Texas, came out with a clear intent on making the team this year. *Photo by Chris Hansen.
COLORADO SPRINGS, Colo. -- As the US prepares for the U17 World Championships, this Memorial Day weekend is the home for some of the best under 17-year-old basketball players in the country. With 138 players from class of 2017 all the way down to class of 2020 here, the skill and talent levels have varied early on. We have seen some of the best players in the gym make their marks early on while other kids are slowly adjusting to the level of play here.
The first three sessions of U17 trials are usually tailored to the second group of kids; the group that needs to build some confidence in order to make an impact. With all three "skills" sessions out of the way, these evening is an opportunity for us to see a high level of competition for the first time. With 5-on-5 around the corner, here is a look at some of the parting thoughts from the three skills sessions.
We Set the Tone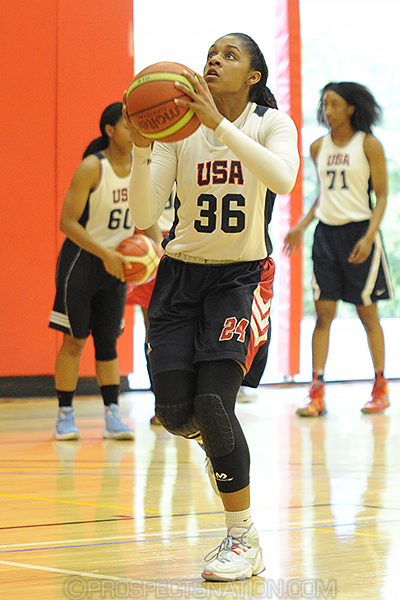 Desiree Caldwell of Lubbock, Texas.
Photo by Chris Hansen.There were a handful of kids who came here and approached every second on the floor as an opportunity to get better. They set the tone with their enthusiasm, their overall approach and their willingness to get better.
Desiree Caldwell of San Antonio, Texas, was one of those kids. The 2018 point guard was on the team last summer and her energy from start to now has allowed her to create separation again. She is a gifted talent but in this setting it was the little things that helped her standout.
Staying in Texas, Connecticut verbal commit Lexi Gordon of Fort Worth, Texas, brought an enthusiasm for the game that was unmatched. She is an effort and energy kid who has developed an elite skill set. This is a great combination for success.
Class of 2020 guard Sydney Parrish of Fishers, Ind., was aggressive with her approach. As one of the younger players in the gym, it was nice to see Parish attack early on.
Bombs Away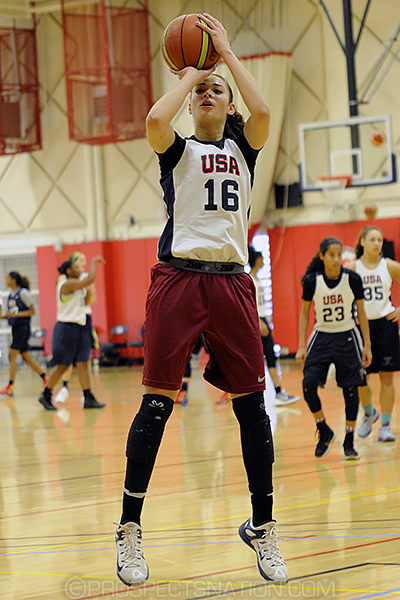 Jayda Adams of Irvine, Calif. *Photo
by Chris Hansen.With a large portion of the skills sessions being shooting, it was nice to see some kids go through drills and really focus on not just making shots, but using the proper footwork as well.

Taylor Kissinger of Minden, Neb., is a pure shotmaker. She has a high release and her range extends to the international 3-point line. As a member of the class of 2017, she was comfortable shooting off the move and off the dribble.
It was nice to see Skylar Curran of Clemens, N.C., move through drills and shoot coming off screens. Curran is a class of 2018 guard with good size and the ability to make shots.
Other prospects who stood out as players who can really light it up were Jayda Adams of Irvine, Calif., Michelle Sidor of Saddle River, N.J., and Cameron Swartz of Marietta, Ga.
Post Play
As the trials moved to some halfcourt offense, one of the points of emphasis was to get the ball inside. This allowed us to see some quality match ups in the post and made for exciting basketball.
Class of 2018 posts Charli Collier of Mont Belvieu, Texas, and Sedona Prince of Liberty Hill, Texas, have stood out as two players looking to make their presence known around the rim. Their size is a factor but their understanding of how to use their body and then make the play has separated them early.
Two players who were on the team last year and have played with intensity early on are Ohioans Bexley Wallace of Pickerington, Ohio, and Valencia Myers of Solon, Ohio.
Keil Moore is the Director of Scouting for the JumpOffPlus.com National Scouting Report and international scouting report. He serves on the Naismith Trophy Board of Selectors and has been a member of the women's basketball community for more than eight years as a trainer and evaluator. He can be reached at keil@prospectsnation.com.