Posted
9 years 5 days ago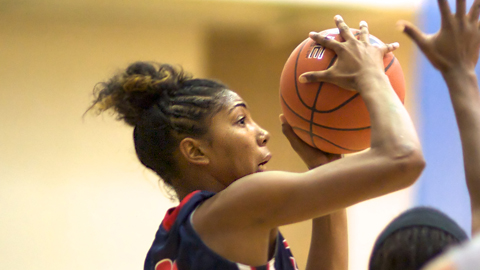 Kelli Hayes joins a recruiting class already ranked No. 1 in the country. *Photo by Chris Hansen.
Tweet
Week in Review is back with the rundown of the recruiting headlines from across the country.
Kelli Hayes to UCLA
With Recce Caldwell of San Antonio, Texas, and Jordin Canada of Los Angeles, Calif., on the board for UCLA, the Bruins currently hold the No. 1 recruiting class in the country. This week the Bruins were able to add to their talented 2014 class with the addition of Kelli Hayes of San Joes, Calif. Hayes is an excellent fit for the Bruins as she will give them a multidimensional wing with excellent athleticism.
Hayes is one of those players who can do a bit of everything on the floor. Her glue type skill set should mesh well with the talented guards she is headed to Westwood to play with. Hayes is the kind of player who doesn't need the ball to make an impact on the game yet can still be effective if she needs to make plays with the ball in her hands. Defensively she has the size, at 6-feet, and the athleticism to guard multiple positions.
Look for UCLA to try and add size with their remaining scholarships. Prospects like 6-2 forward LaJahna Drummer of Los Angeles, Calif., 6-3 post Monique Billings of Los Angeles, Calif., and 6-2 forward Michelle Nwokedi of Houston, Texas, are all possibilities.
Natalie Romeo to Nebraska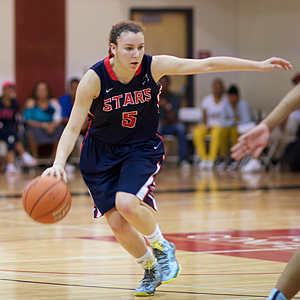 Natalie Romeo will look to make the same impact
as Lindsey Moore at Nebraska. *Photo by Chris Hansen.
Coming out of the spring, there weren't many players who had made as much of an impact on the circuit as Natalie Romeo of Martinez, Calif. The 5-8 point guard proved that she can run a team and create offense for others. Her games against elite summer programs like Boo Williams and DFW helped her standout and elevate herself as one of the better point guards in the class of 2014.
This week Romeo decided to give her verbal pledge to Nebraska and take her playmaking ability to the BigTen. Romeo, who picked Nebraska over Boston College, Louisville, Oregon, Oregon State, St. Mary's, and Utah, has the potential to be a centerpiece of Nebraska's offense for years to come, much in the same way Lindsey Moore has been the last four years.
In addition to Romeo, Nebraska has four-star forward Kaylee Page from Alma, Kansas, and three-star guard Jasmine Cincore from Memphis, Tenn.
Washington adds 2015 Post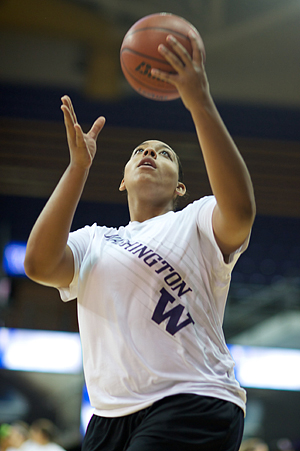 Deja Strother of Kenmore, Wash.
*Photo by Chris Hansen.
Deja Strother of Kenmore, Wash., gave her verbal pledge to in-state PAC-12 school Washington on Friday, ahead of attending ELITE camp. The ELITE 100 Watch List class of 2015 post will give them a centerpiece to build around inside as she stands 6-foot-5 and has a developing offensive skill set.
The powerful interior player will play alongside former Tree of Hope club alumni and 2012 McDonald's All-American Katie Collier, who is a redshirt freshman this coming season. She'll also have two years with two-game All-American and USA Basketball U19 gold medal-winning guard Kelsey Plum. Depending on what Huskies' coach Mike Neighbors does with the 2014 class, the 2015 focus could target a few more prospects to replace the guards in the junior and senior classes as well as another post to solidify the frontline. Washington had 2015 post Erin DeGrate of Waco, Texas, on campus for elite camp, as well as point guard Asha Thomas of Oakland, Calif.
AROUND THE RIM
Gabby Lyon to Middle Tennessee: A 6-foot forward, Lyon of Johnson City, Tenn., gave her verbal pledge to Middle Tennessee and coach Rick Insell this week. Lyon is a skilled forward with the ability to bring versatility to the Blue Raiders frontcourt. She is rated a three-star prospect by ProspectsNation.com.
Cheyenne Greenhouse to San Diego State: Class of 2014 wing-forward Greenhouse, of Moreno Valley, Calif., gave her verbal pledge to San Diego State this week. Greenhouse finished the summer showing the potential to be a high mid-major prospect and should be a great fit for the Mountain West school. Her size and versatility should allow new coach Stacie Terry to be flexible in how she plans to use her. She also considered several Ivy League schools.
Rolanda Hayes to Florida Atlantic: Hayes, of Rockledge, Fla., is a smooth shooting two-guard with the ability to attack the rim off of the bounce. This week the South Florida resident made a verbal pledge to stay close to home and play her college basketball at Florida Atlantic. Hayes picked the Sun Belt school over Providence, Virignia Tech, Liberty, Florida International, Georgia State, and Miami.
Haley Clark to Georgia: Georgia added an four-star prospect in the class of 2014 class when Clark, of Orlando, Fla. Clark picked the SEC school over South Carolina, Florida, Florida State, and Louisville. At 5-9 Clark has good size to provide depth at either backcourt position. Follow @KeilMoorePSB

Moore is the Director of Scouting for the JumpOffPlus.com National Scouting Report and international scouting report. He has been a member if the women's basketball community for more than six years as a trainer and evaluator. He can be reached at keil@prospectsnation.com.