Posted
9 years 11 months ago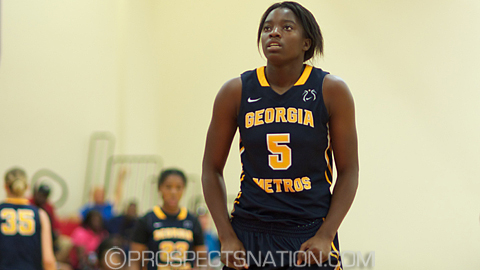 No. 30 Dekeiya Cohen gives Baylor an impact. *Photo by Chris Hansen.
Tweet
After a week off, the Week In Review is back with two weeks of headlines and analysis from across the country.
Baylor Adds Cohen
This week Baylor picked up a major addition in the 2014 class as Dekeiya Cohen of Charleston, S.C., decided to pick the Big 12 school over Georgia Tech, Louisville, Miami, and South Carolina. Cohen gives Baylor a versatile forward with the ability to score the ball around the rim and from the perimeter. At 6 feet 2, her combination of athleticism and size made her a match-up nightmare this summer as Cohen was able to overpower and out skill her competition on a consistent basis. With the addition of Cohen Baylor's 2014 class now consists of a combo forward in Cohen, and a true post player in Micayla Buckner of Garland, Texas, giving coach Kim Mulkey two ELITE 150 prospects.
Louisville Scorers Fifth Ranked Recruit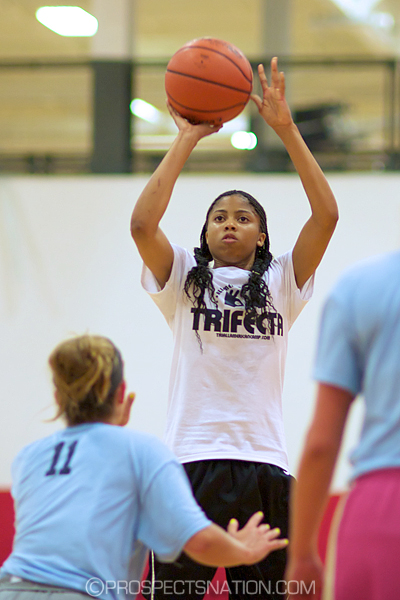 '14 ELITE 150 guard Arica Carter.
*Photo by Chris Hansen.
Jeff Walz landed the fifth piece to his Louisville Cardinal 2014 recruiting class, securing a verbal commitment from Arica Carter of Long Beach, Calif., while on her official visit this weekend. The No. 62 prospect in the ELITE 150 is a combo guard that joins the Cardinals four early pledges – No. 11 Myisha Hines-Allen, No. 16 Mariya Moore, No. 50 Ariana Freeman and No. 102 Sydney Brackemyre. The Long Beach Poly senior also considered Arizona State and Kansas in her final three.
West Virginia's King
Kristina King, a 6-3 post from Thomasville, N.C., last week made a decision on West Virginia as her college of choice. King is a good athlete with a wiry frame and a ton of untapped potential long term. Her addition to West Virginia's 2014 class gives them a true interior presence to develop around the rim, but King also has the ability to grow her perimeter skill set and play the stretch-four role offensively. That development would allow West Virginia to play a big line up with King at the four next to a true center.
Davenport Picks Miami
Miami was able to score a verbal commitment from ELITE 150 post Erykah Davenport of Decatur, Ga. Davenport gives the ACC school an elite athlete for both the power forward and center positions. At 6-2 Davenport is a powerfully built prospect with the ability to rebound the ball early in her career. As she continues to develop her offensive skill set and work to become an impactful two-way player, her ability to make plays defensively should help her get on the floor early in her career. In addition to Davenport, Miami holds commitments from Keyanna Harris of Miami, Fla., and Khaila Prather of Baltimore, Md.
Nwokedi Goes Ivy
Every year it seems at least one ELITE 150 caliber prospect spurns a stable of BCS schools that are pursuing her services and decides to take her talents to the Ivy League. In years past it has been Princeton and Harvard that have reaped the benefits of this phenomenon as they have both hauled in a couple of very impressive recruiting classes in recent years. This year the University of Pennsylvania scored a major target when they beat our programs such as Texas A&M, Northwestern and Columbia to land Michelle Nwokedi of Missouri City, Texas. As a 6-2 forward, Nwokedi has a ton of upside long term but should be able to come in and compete early in her career for minutes. She is a good athlete with a quickly improving skill set. As the No. 52 player in the ELITE 150, Nwokedi is certainly an impressive addition to the Ivy League school.
More From Platinum Nation
Find more on Alyssa Rice's Decision to Pick Kentucky: Platinum Reax
Read about Asia Doss' decision to pick Ohio State: Platinum Reax
Jamie Nared decided to pick Tennessee. Read more about it here: Platinum Reax
Adrianna Hahn picked Villanova this week. Read more about it here: Platinum Reax
AROUND THE RIM
3-star Porter to Harvard: Harvard added size and athleticism to its frontcourt with the addition of three-star forward Kirby Porter of Waldorf, Md. Porter should be a factor on the offensive and defensive glass as she is an active forward who likes to rebound the basketball.
No. 43 junior Gaines to Michigan State: Michigan State continues to add underclassman to their plans for the future as they score a verbal commitment from 2015 prospect Victoria Gaines of Merrillville, Ind., Gaines is an athletic four player with the ability to make an impact on the offensive and defensive side of the ball.
4-star Gilmore to ODU:Auteonna Gilmore is a big score for ODU as the Monarchs keep one of the DMV area's top point guard prospects close to home and get a potential early impact type recruit for one of the newest Conference USA schools. Gilmore is a playmaking point guard who has vastly improved as a perimeter shooter.
No. 134 Edwards to Arizona State: The Sun Devils added a talented post player with very good upside this week as they scored a verbal commitment from Ayanna Edwards of Sacramento, Calif. Edwards is a prospect with a lot of untapped potential and at 6-4, the player that goes by the name "Shaq", has the ability to be a cornerstone for the PAC-12 program if she can maximize her ability.
Junior guard Anderson to N.C. State: North Carolina State reached into the 2015 class and scored a verbal commitment from 5-9 guard Camille Anderson of Buford, Ga. Anderson is a solid perimeter shooter who should be an excellent fit in first-year coach Wes Moore's offensive system.
Chris Hansen contributed to this report
Follow @KeilMoorePSB

Moore is the Director of Scouting for the JumpOffPlus.com National Scouting Report and international scouting report. He has been a member if the women's basketball community for more than six years as a trainer and evaluator. He can be reached at keil@prospectsnation.com.