Posted
9 years 11 months ago
Yacine Diop had thousands of miles between her final choices and decided to stay closer to home. *Photo by Ty Freeman.
Tweet
Signing week is just a couple of weeks away and players from the 2014 class are coming up against a real deadline for the first time in the recruiting process.
Oklahoma Scores Pierre-Louis
This weekend Oklahoma picked up a verbal commitment from 6-foot-2 post Vionise Pierre-Louis. In doing so the Sooners added size and depth to their frontcourt. Pierre-Louis was on her official visit at the Big 12 school when she decided to make her verbal pledge.
Her addition gives Oklahoma immediate help at both the power forward and center positions. Pierre-Louis is an agile and athletic post with the ability to make an impact on both sides of the ball. In addition to Pierre-Louis, Oklahoma has verbal commitments from a pair of four-star guards in Gabbi Ortiz of Racine, Wisc., and LaNesia Williams of Oklahoma City, Okla.
Diop to Pitt
Pittsburgh managed to keep one of the top in-state talents at home this week as the Pathers scored a verbal commitment from class of 2014 guard Yacine Diop of Pittsburgh, Pa. Diop, who picked Pittsburgh over California and Dayton, is a very good athlete who will bring her rapidly developing skill set to the ACC. Her ability to attack the basket and make plays off of the bounce should give Pitt a solid offensive contributor early in her career. Diop joins Stasha Carey of Brookpark, Ohio, Aysia Bugg of Bolingbrook, Ill., and her summer teammate Naje Gibson of Mckees Rock, Pa., as the fourth member of Pittsburgh's 2014 class.
NC State Lands Richardson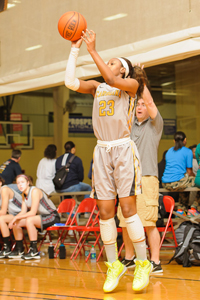 '15 watch list guard Amber Richardson.
*Photo by Ty Freeman.
Amber Richardson of Raleigh, N.C., decided to stay close to home this week and picking North Carolina State as her school of choice. Richardson, who is a member of the class of 2015, is an elite athlete with the ability to play multiple positions on the perimeter. At 6-0, she brings North Carolina State coach Wes Moore a ton of options on both sides of the ball as she can thrive in a variety of settings. Richardson becomes the second member of the class of 2015 to join N.C. State as Camille Anderson of Buford, Ga., was the first.
Read more about Bianca Cuevas picking South Carolina: Story
No. 117 Marte Grays to DePaul
DePaul landed a verbal commitment from 6-2 forward Marte Grays of Detroit, Mich., last week. Grays is an athletic post player with a developing skill set. Her ability to run the floor and challenge shots around the rim should help her make an impact early in her career as she spends time honing and sharpening her offensive skills in order to make an impact on that side of the ball.
Grays is the highest ranked player in DePaul's three-player class. She joins No. 149 Ashton Millender, a 5-11 guard from Chicago Heights, Ill., and Meghan Waldron, a 5-11 wing from Wheaton, Ill.
AROUND THE RIM
3-star Gregory to Central Florida: Central Florida added size and athleticism on the wing with the commitment of Aliyah Gregory of Riverview, Fla. Gregory is a wiry prospect who should help add depth to Central Florida's roster as it prepares to play its first seasons in the new-look Big East.
3-star White to Brown: Brown adds size to its roster with the addition of Janie White of Clarksville, Tenn. White, a 6-3 post player, has the ability to make mid-range jumpers and keep a defense honest on the offensive end while also proving to be a capable shot blocker on the defensive side of the ball.
3-star Bando to Gonzaga: Gonzaga scored a verbal commitment from combo guard Lexi Bando of Eugene, Ore. Bando is a bundle of energy at the guard spot and should be able to make an impact defensively. Offensively, her perimeter jumper has improved throughout her prep career and she fits the style of play that has become the trade mark of Kelly Graves' Bulldogs. Follow @KeilMoorePSB

Moore is the Director of Scouting for the JumpOffPlus.com National Scouting Report and international scouting report. He has been a member if the women's basketball community for more than six years as a trainer and evaluator. He can be reached at keil@prospectsnation.com.