Posted
10 years 1 week ago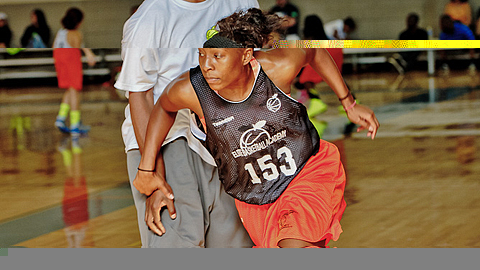 Taylor Gordon was one of two ELITE 150 prospects committing to Wake Forest in the last week. *Photo by Ty Freeman.
Tweet
The ACC got busy in recruiting last week and scored a majority of the commitment headlines for the last seven days.
Wake Scores Two
It was a strong recruiting week for Wake Forest coach Jen Hoover and her staff. Early last week the ACC school picked up a verbal commitment from wing-forward Taylor Gordon of Powder Springs, Ga., and by the close of the week they were able to pair Gordon with guard Amber Campbell of Charleston, S.C.
Gordon gives Wake Forest added depth on the wings as she is a powerfully built prospect with a much improved perimeter jumper. She has the ability to make a play attacking the rim in addition to sticking the jumper off of a ball reversal. Campbell is a slashing wing who has also taken steps to improve her perimeter jumper as of late. At 5 feet 9, Campbell has the ability to play both wing positions and her athleticism and quickness should help her succeed in a talented ACC conference.
Gordon, who is ranked 73rd in the ELITE 150, and Campbell, ranked 88th, join 6-1 forward Nicole Floyd of Manassas, Va., who is the highest ranked of the group at No. 70, to make up Wake Forest's three-player class.
Brandon Clay and Marques Burnett talk about the week that was:
Junior Briana Fraser To Maryland
Maryland was able to add size and talent to its roster as they were able to land a verbal commitment from class of 2015 post Briana Fraser of New York, N.Y. She is one of the top post prospects in her class, and at 6-3, Fraser has quality size to battle in the post and the skill to make plays with her back to the basket. In addition to being able to score the ball in the post, she is an active presence around the rim.
With her verbal commitment, Fraser becomes the first player in the 2015 class to join the Lady Terps program. Although this year Maryland will play in the ACC, next season they will be joining the Big Ten along with Rutgers. Fraser is an active post with a developing skill set and coach Brenda Frese and her staff will certainly be looking to continue to develop that as she makes the move down I-95 from New York City to College Park, Md.
Nasheema Oliver To Georgia
Georgia coach Andy Landers and his staff have been hard at work with their 2014 recruiting class. They were able to strike early and score in-state prospects Jasmine Carter, a 5-8 guard, and Mackenzie Engram, a 6-3 forward, before the July evaluation period. Shortly after the conclusion of July Landers and his staff scored a verbal commitment from 5-9 guard Hayley Clark of Orlando, Fla., to make their 2014 class a three member group.
This week that three turned to four as they scored a verbal commitment from 6-3 post Nasheema Oliver of Cordelle, Ga. Oliver gives the Georgia Bulldogs a true post to join a well-rounded class position wise. She can score with her back to the basket and is comfortable playing around the rim.
Keyanna Harris To Miami
Miami added the first player to its 2014 recruiting class this week as the staff was able to land Keyanna Harris of Miami, Fla. Harris, the No. 81 prospect in the ELITE 150, has the ability to come in and play either forward position as she is a long and athletic prospect with an evolving skill set. The 6-1 prospect has been up and down with her play on the summer circuit but she has a ton of talent and coach Katie Meier and her staff will certainly be looking to harness her talent and help her reach her potential.
AROUND THE RIM
No. 69 Asia Robeson to Auburn: Platinum Subscribers click here for our own Chris Hansen's take on Robeson's impact at Auburn.
No. 99 Tonia Wade to St. John's: St. John's added an athletic post this week as they reached up into Minnesota to score Tonia Wade of Minneapolis, Minn. Wade will bring rebounding and energy to the Big East school.
No. 122 Breonn Hughey to Towson: Towson scored huge this week as they were able to keep four-star point guard Breonn Hughey of Washington, D.C., close to home and secure a verbal commitment from the 5-5 prospect.
3-Star Katie Powell to Arkansas: Arkansas was able to secure a verbal commitment from the 6-3 forward Katie Powell this week while she was on her official visit to the SEC school. Powell is a face-up 4 who likes to stretch the floor with her perimeter shooting ability. Follow @KeilMoorePSB

Moore is the Director of Scouting for the JumpOffPlus.com National Scouting Report and international scouting report. He has been a member if the women's basketball community for more than six years as a trainer and evaluator. He can be reached at keil@prospectsnation.com.