Posted
9 years 9 months ago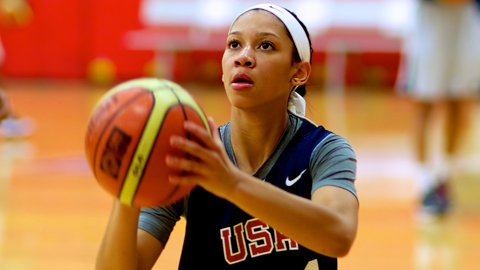 '16 Watch List point guard Anna Wilson gives Stanford an elite point guard for the future. *Photo by Chris Hansen.
Tweet
It must be fall now because the pace of players making verbal commitments went into hyper drive last week.
Future Cardinal Lead Guard
If you get a couple seconds to sit and talk to 5-foot-6 point guard Anna Wilson of Richmond, Va., the fact that she has become one of the earliest verbal commitments for one of the country's finest academic institutions wouldn't be a surprise at all. Wilson is a bright kid with presence beyond her years, but she is also one of the top point guards in the class of 2016 and a huge pick up for Stanford.
Adding a player like Wilson gives Stanford they're next potential day-one star in Palo Alto, but it also gives the Pac-12 program something they haven't had in recent memory, an elite true point guard. In the past couple of decades the Stanford women's basketball program has been led by dominant posts and forwards. While, Candice Wiggins, Jeanette Pohlen and Amber Orrange have been their standout guards, but Pohlen and Wiggins were arguable combo guards. Wilson has the potential to enter the PAC-12 school as their most highly regarded true point guard prospect in a decade.
Wilson is a cerebral lead guard with good athleticism. Her ability to take care of the ball while still picking spots to be aggressive and make plays have allowed her to make a name for herself very early in her career. Wilson is still a young prospect but her potential is undeniable at this point in her career. For a program like Stanford that isn't a stranger to landing elite recruits, landing Wilson was still significant.
Big Weekend for Radford
Radford had a huge recruiting weekend as the Big South school was able to earn verbal commitments from three different three-star prospects. Coach Mike McGuire and his staff earned pledges from 5-11 wing Jada Worthy of Toledo, Ohio, 6-3 post Janelle James of Ashville, Ohio, and 6-0 forward Janayla White of Virginia Beach, Va.. This is McGuire's first season as the head coach at Radford and easily one of the biggest recruiting weekends in his young career.
Platinum Reaction Stories From The Week
Ortiz to Oklahoma: Chris Hansen covers 2014 point guard Gabbi Ortiz's decision to pick Oklahoma over Purdue.
Flaherty to Michigan: Keil Moore writes about Katelynn Flaherty's decision to pick Michigan and how it will impact second year coach Kym Barnes-Arico and her program.
Moore to Purdue: Brandon Clay covers Erica Moore's decision to stay close to home and play her college basketball at Purdue.
AROUND THE RIM
4-Star Armani Hawkins to Arizona State: A 5-10 guard, Armani Hawkins of Mesa, Ariz., decided to join her sister, sophomore guard Arnecia Hawkins, at Arizona State and play her college basketball close to home. Hawkins will give the PAC-12 school a wing with solid potential to contribute early in her career.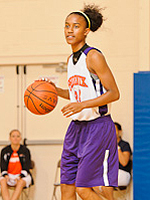 Paris Kea
Kea to Vanderbilt: Paris Kea, the No. 77 prospects in the ELITE 100, gave Melanie Balcomb and her staff the missing piece to their tremendous 2014 recruiting haul. Kea is an electric scoring point guard and gives the Commodores three ELITE commits in 2014.
3-Star Kennedy Johnson to Michigan State: A 6-3 post, Kennedy Johnson of Galloway, N.J., will give Michigan State size and depth across its frontline. Johnson is a true post with a developing skill set. She should be able to guard her position and rebound the ball in addition to expanding her offensive game during her career.
3-Star Darrien Washington to Nebraska:Darrien Washington of Oakland, Calif., will join her Cal Stars teammate Natalie Romeo at Nebraska next fall. Washington will give Nebraska a big body to help defend the paint and finish around the rim.
Jazmine and Jessica Jones to Auburn: With the addition of 6-1 twin sisters Jazmine and Jessica Jones of Raleigh, N.C., the Auburn women's basketball program adds to prospects that fit the pressing and trapping style that their head coach Terri Williams-Flournoy likes to play. They are both long limbed, three-star prospects who should be able to make an impact using their physical gifts, especially on defense.
3-Star Stephanie Amicha to LSU: A 6-foot forward, Stephanie Amicha of Suwanee, Ga., made a name for herself as one of the better rebounders in the class. Her ability to battle on the boards earned her a scholarship to Louisiana State where the Tigers will surely look for her to be a factor on the offensive and defensive glass.
3-Star Shantelle Valentine to Marquette: Marquette went north of the border and plucked an athletic post player with very good upside when they were able to score 6-2 Shantelle Valentine of Hamilton, Ontario. Valentine has great physical tools and while she will be raw offensively early in her career she could end up being a big addition to the Marquette program.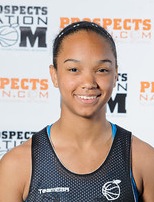 Genesis Perrymond
3-Star Genesis Perrymond to South Alabama:Genesis Perrymond of Lilburn, Ga., is a spark plug offensively. She will be able to give South Alabama a scoring punch offensively while also being able to defend both backcourt positions. The 5-6 combo guard should be able to make an impact early in her career.
3-Star Dyandria Anderson to Florida: The Gators landed an athletic guard with the ability to be a lockdown defender with the addition of Dyandria Anderson of Melbourne, Fla., to their 2014 recruiting class. Anderson will join guard Isis Young of Berlin, N.J., Brooke Copeland of Cleveland, Tenn., and Haley Lorenzen of Iowa City, Iowa, as members of Florida's 2014 recruiting class.
3-Star Rachel Camp to Virginia Tech: The Hokies added 5-11 wing Rachel Camp of Forest City, N.C., to their 2014 recruiting class this week. Camp is a wiry, thin wing with the ability to score the ball and defend her position. Follow @KeilMoorePSB

Moore is the Director of Scouting for the JumpOffPlus.com National Scouting Report and international scouting report. He has been a member if the women's basketball community for more than six years as a trainer and evaluator. He can be reached at keil@prospectsnation.com.