What We Learned: 2016 KM Fall Showcase
Posted
6 years 6 months ago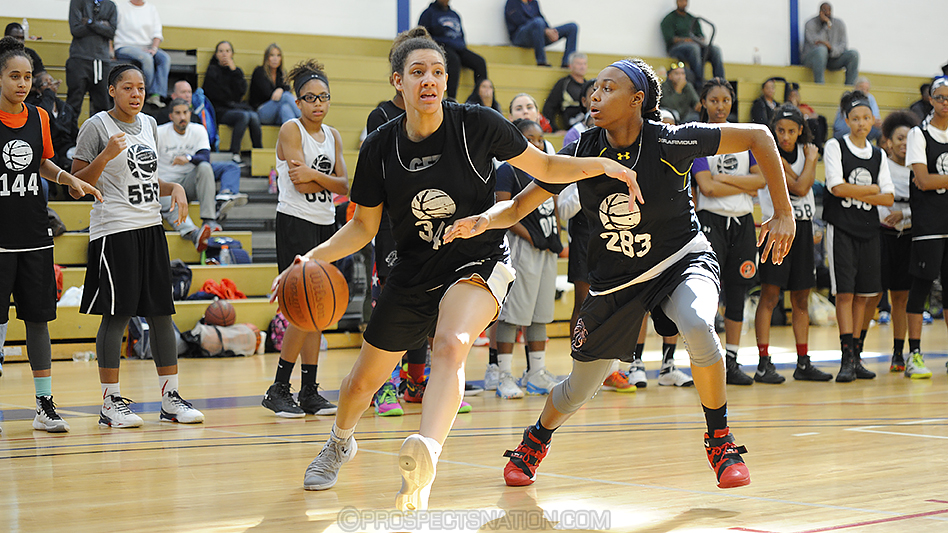 MiMi Collins and Imani Lewis battle in a one-on-one drill at the Keil Moore Fall Showcase. *Photo by Chris Hansen.
WILLINGBORO, N.J. – The 2016 Keil Moore Fall Showcase has become the go-to spot for players from the northeast. Players from D.C., Maryland, New Jersey, New York, Pennsylvania, Virginia and beyond were 100 deep at the Kennedy Center focusing on competing and advanced skill work. Here's what we learned.
ELITE 100 Prospects Shine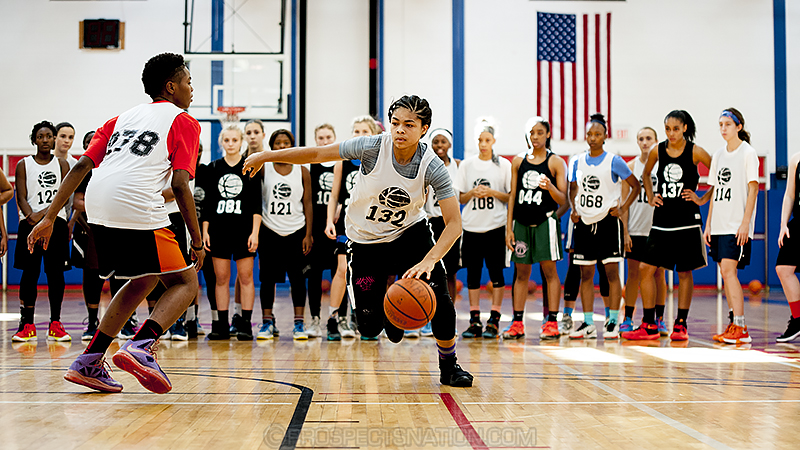 It's always good to see some of the country's elite players in the gym, getting better, and setting a tone for the level of play. That was the case this weekend when highly regarded players such as Amira Collins of Laplata, Maryalnd, Jordan Nixon of Brooklyn, New York, and Imani Lewis of Willingboro, New Jersey, took the floor. As forwards, Collins and Lewis had a couple of strong head-to-head match-ups that were exciting to watch. Both players competed and didn't give an inch when guarding the other. They brought a great combination of physicality and skill to the floor. On the perimeter, Nixon was joined by another Nixon, Ole Miss signee Chyna Nixon of Philadelphia, Pa. Both players are dynamic with the ball and hard to guard in one on one situations.
As the showcase progressed from drills to competition, Dara Mabrey of Belmar, New Jersey, was able to assert her dominance as one of the most competitive players in the gym. Mabrey is the kind of guard that hates being scored on but loves to score on her opponent on the offensive side. Her almost never-ending range on her jumper was on display this weekend.
Like Mabrey, Michelle Sidor of Saddle River, New Jersey, seems to be in range once she gets in the gym. The progression in her game was on display this weekend as she managed to show touch on her floater and the ability to attack to score off the bounce.
Guard Play
Quality guard play was on display throughout the weekend with a variety of different types of guards showcase their abilities. Junior point guard Tori Hyduke of Fair Haven, New Jersey, set a tone early in a one-on-one drill by attacking her defender and scoring a basket. She took that momentum and built on it throughout the weekend. Her ability to make plays for herself and others really allowed her to stand out.
Staying at the point guard position, 2019 point guard Nisani Santiago of Gladstone, New Jersey, and 2018 point guard Jenna Annecchianco of Baldwin, New York, stood out as two players who can run a team and be leaders on the floor. As more of a combo guard, Kaia Harrison of Baldwin, New York, showed versatility in her offensive attack as she was able to knockdown perimeter jumpers and attack the rim off the bounce while Abbey Lawrence of West Caldwell, New Jersey, impacted the game on both sides of the ball with her energy and willingness to defend.
Youth Movement
One of the refreshing things about the weekend was the caliber of young talent that was in the gym. Any discussion of the youth movement has to begin with the play of 2021 wing Jennah Isai of Phoenix, Arizona. As one scout said, "She didn't fly across country to play around." With her play this weekend, Isai was impactful from start to finish. She has a strong frame that allows her to score in the post and is good enough off the bounce to attack the basket from the perimeter.
Going younger, Kayla Beckford of Patterson, New Jersey, and Mihjae Hayes of Philadelphia, Pennsylvania, a pair of 2022's, impressed with their energy and effort level. Both Beckford and Hayes are players to track as they progress through the ranks.
Not to be out done, the freshman (2020) class was represented with the play of Nisea Burrell of Philadelphia, Pennsylvania, and Ciara Brannon of Willingboro, New Jersey, while 2021 guard Omoiye Jordan of Philadelphia, Pennsylvania, represented well for her graduating class.
On the Rise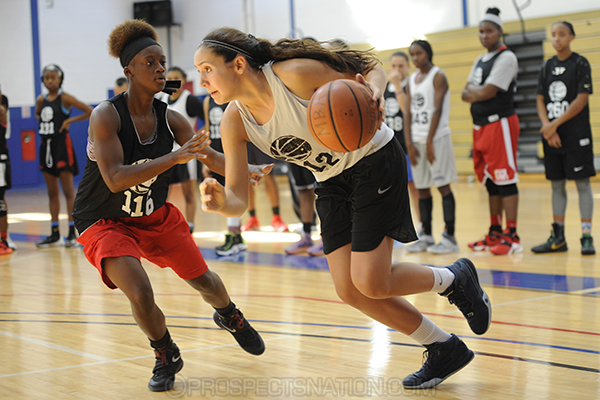 In a gym with over 100 prospects on the floor there were a number of standout performers who showed growth. Along with the tone setters in the ELITE 100 rankings, a new face that emerged from the beginning of the weekend and continued to perform through the duration was Maddie Plank of Briarcliff Manor, New York. Plank's ability to be an effective scoring option in one-on-one situations was impressive as she beat defenders and showed range on her perimeter jumper. Another explosive offensive performer was Breyanna Frazier of Bayonne, New Jersey. Frazier was comfortable getting to the rim and playing off the bounce. Her athleticism and smooth one-on-one moves make her a tough cover.
Staying on the perimeter, Lola Mullaney of Colts Neck, New Jersey, showed the ability to make shots from deep and had her jumper in tune all weekend long. She has the potential to keep a defense honest and is comfortable handling the ball. In different ways than Mullaney, Leilani Correa of Howell, New Jersey, turned the same heads with her play. Correa is an active prospect with the length and athleticism to guard and play multiple positions. She was aggressive with her approach and it allowed her to make a loud impact this weekend.
Moving closer to the paint, a trio of 2019 prospects of note are Azana Baine of Gloucster, New Jersey, Nadjy Tyler of Philadelphia, Pennsylvania, and Ariel White of Roselle, New Jersey. Baine was a name to remember this weekend. Although she is still developing, Baine has the physical tools to be an impact type recruit for programs at the next level. Despite having the size to legitimately play in the post, she is comfortable handling the ball and creating a shot for herself. In the post, Tyler has developed into one of the premier shot blockers in the country. At 6 feet-3 inches she has the length and athleticism to be impactful around the rim but has also developed offensively into a legitimate scoring threat. Similar to Tyler, White is a 6-3 prospect with a versatile game and the ability to score on the perimeter while being an impactful defender around the rim.
Keil Moore is the Director of Scouting for the JumpOffPlus.com National Scouting Report and international scouting report. He serves on the Naismith Trophy Board of Selectors and has been a member of the women's basketball community for more than eight years as a trainer and evaluator. He can be reached at keil@prospectsnation.com.