What We Learned In Boston
Posted
1 year 4 months ago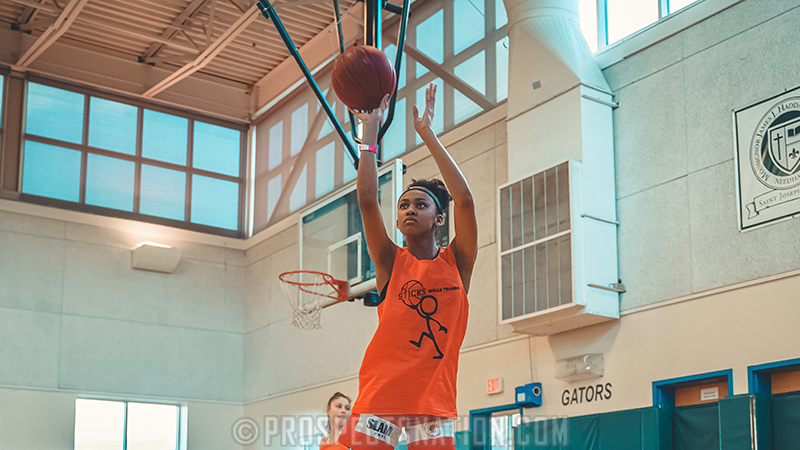 Jayda Johnson of West Haven, Connecticut, elevates for a jumper in Boston. *Photo by Anthony Lugardo.
BOSTON – For the second straight October, the Brandon Clay Training Academy showcased itself as the region's premier individual showcase featuring girls from all over the area. Here is our take on several noteworthy prospects from the event:

Groot has made big strides in her overall skill set since our first evaluation just over a year ago in Atlanta. She has prototypical forward size at the next level coupled with a versatility that lets her post to score on one position then hit a face up jumper on the very next. Couple that with her academic standing and Groot still has a lot of upside as she makes her way towards the college level.

Like Groot, Johnson has been on the floor with our staff in both Dallas and again in Boston. Due to her play, Johnson is a breakout name of the fall for our staff. With scholarship offers from Boston College and Virginia Tech alike, she is one of the premier options in the region. Johnson made a name for herself earning a spot on Exodus EYBL roster last summer. Look for the smooth, versatile wing player to stamp herself as a premier option in the state this school season.
AROUND THE RIM
Class of 2025 guard Gianna Nichols of Marianapolis Prep came in on Sunday ready for action. A multi-sport standout, she was fresh off of a soccer match the day before.
Keep an eye on the Collins sisters, Emerson and Payton, from Hamden Hall. The class of 2025 graduates made their presence felt here showing that the future is bright for the emerging Connecticut powerhouse program.
Class of 2024 guard Nasi Simmons of Noble and Greenough has all the tools to make a Dominique Darius type of run the next three years. Seeking both elite skill training and competition will be key.
Class of 2025 post Nyla Blake-Soden of The Dalton School is fantastic athlete in the open floor. As she refines her craft, look for more consistent production.
Speaking of Hamden Hall, class of 2023 post Rayne Durant anchors the frontcourt for them. She has nice touch around the rim and runs the floor consistently. Keep an eye on her.
Class of 2023 forward Nalyce Dudley has the size and build to be a factor in the frontcourt for New London. She was impressive on Saturday.
Our staff hated to miss out on a few registered kids who didn't make it to in to train: Geanna Bryant, Sophia LeGoullon, Amber Silva and Olivia VanPatten.

Brandon Clay serves as the Director of Scouting for ProspectsNation.com and owns The BrandonClayScouting.com Evaluation Report, which is read by more than 200 colleges and universities nationwide. He also serves as the Executive Skills Director for the Brandon Clay Scouting Academy Series.