Posted
7 years 10 months ago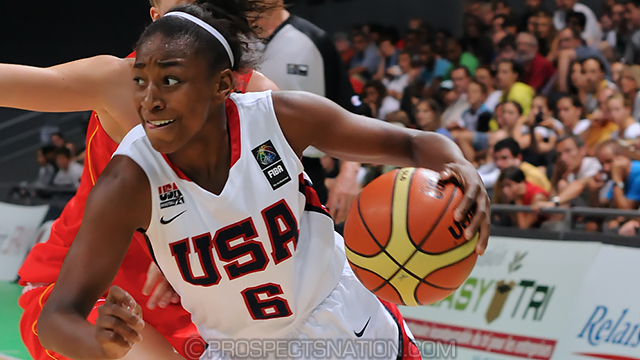 WNBA Prospect Watch provides readers with a heads up on the nation's top collegiate players. This installment focuses on the choice in front of the nation's premier scoring guard regardless on class.
Jewell Loyd, 5-9, SG, Notre Dame
Upcoming Key Game: April 7 vs UConn (NCAA National Championship)
Strengths: Primary wing scorer, rebounds well at her position
Area To Improve: Three-point shooting percentage
As Jewell Loyd gets ready to play in the final NCAA game of the season, she'll have to decide if coming back to Notre Dame for her senior campaign outweighs the chance to play professionally during the 2015-16 season. Due to the fact that Loyd turns 22 this calendar year, she is eligible to play in the WNBA this summer. The declartion deadline for the WNBA Draft is 11:59 p.m. on April 6 or 24 hours after the final game. The prolific scoring guard projects as a top-three selection in this month's Draft should she declare.
During the 2014-15 college season, Loyd has been on fire. She averaged 20 points, 5.3 rebounds per contest, being named a Naismith Trophy Player of the Year Finalist in the process. Though Loyd shot 45 percent from the field, she can continue to work on her shooting from beyond the arc, which is at 31.7 percent going into tonight's championship game. This is the third consecutive Final Four and second National Championship appearance for Loyd. Looking ahead, she projects as the top scoring guard prospect in either this year or next year's draft. Loyd's selection placement would be need-based as frontcourt options such as Amanda Zahui B. of Minnesota and Connecticut's Breanna Stewart are present in both draft classes.
ProspectsNation.com Team Coverage on Loyd's WNBA Status:
BREAKING: Per ESPN, Notre Dame's Jewell Loyd enters WNBA Draft. No. 2 on the Board. ELITE30: http://t.co/7QoOldoGHL pic.twitter.com/rG9HvIEuSw

— Brandon Clay (@BrandonClayPSB) April 9, 2015
ICYMI: Notre Dame Jr. G Jewell Loyd has the option to head to the WNBA this season. MY TAKE: http://t.co/7XK5BxcR1w pic.twitter.com/x0DyorN5fr

— Brandon Clay (@BrandonClayPSB) April 9, 2015
The nation's top SG, Jewell Loyd, plays for an NCAA title tonight and then what? WHAT'S NEXT: http://t.co/7XK5BwVg9Y pic.twitter.com/Ig57RNo0Af

— Brandon Clay (@BrandonClayPSB) April 7, 2015

Brandon Clay serves as the WNBA Director of Scouting for ProspectsNation.com and owns The JumpOffPlus.com International Report, which is picked up by more than 150 colleges and universities nationwide. He serves as the Executive Camp Director for the Elite Basketball Academy Camps. He serves on the Naismith Trophy Men's / Women's College Player of the Year Academy and is chairman of the HS Boys / Girls Board of Selectors.