WIR: Boley, Page, Raventos
Posted
9 years 2 months ago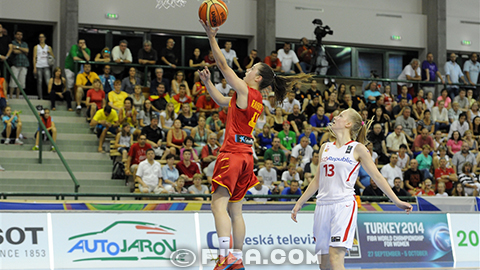 Laia Raventos has been a mainstay for the Spanish national team and will now look to be the same for Charlotte. *Courtesy of FIBA.com.
Tweet
Mid-September has been active on the recruiting front, as always. Here's a look back at some of the headlines from this past week.
Penn State Turns A Page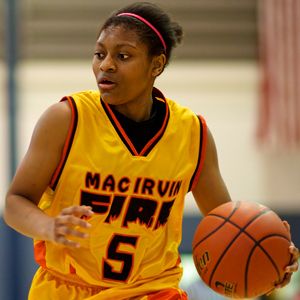 '15 ELITE 60 point guard Teniya Page. *Photo by Chris Hansen.
This week Penn State added one of the best remaining uncommitted prospects in the country, as well as one of the best point guards in the class of 2015, when Teniya Page of Chicago, Ill., made a verbal commitment to Coquese Washington and her staff. With the addition of Page, a 5-foot-7 point guard, Penn State is getting a true floor general with the ability to run a team, create her own offense off the bounce, and pressure opposing point guards defensively. Page has the ability to follow in the footsteps of current Connecticut Sun point guard Alex Bentley who mastered the point guard position for Washington and her staff during her time in State College, Pa.
In addition to Page, Penn State also holds verbal commitments from No. 15 Amari Carter of Washington, D.C., and No. 109 Jaylen Williams of North Easton, Mass. Carter, is a 5-9 combo guard with a silky smooth jumper while Williams is an athletic 6-3 post with an abundance of long term upside.
Louisville Adds Another
Louisville has continued its run on the 2015 class as No. 26 Samantha Fuehring of Wanaque, N.J., made a verbal pledge to the ACC school becoming the fifth member of what has a chance to be the No. 1 overall recruiting class in the country. Fuehring gives coach Jeff Walz and his staff a player similar to rising senior Sarah Hammond; a versatile forward with good size and the ability to create match up problems on the offensive side while being able to guard size on the defensive side of the ball.
In addition to Fuehring, Louisville currently holds verbal commitments from the No. 1 overall prospect in the 2015 Asia Durr of Douglasville, Ga., No. 12 Taja Cole of Richmond, Va., No. 23 Brianna Jones of North Babylon, N.Y., and No. 36 Erin DeGrate of Waco, Texas.
Boley to Notre Dame
Notre Dame got a jump on the 2016 class when they picked up a verbal commitment from 6-2 forward Erin Boley of Elizabethtown, Ky., this week. Boley gives the ACC school a stretch-four player who can operate in its Princeton style offense. The No. 18 prospect in the ELITE 60 has the ability to make open shots from the high post and make plays with the pass.
With her verbal commitment, Boley becomes the first player in the class of 2016 to make a verbal pledge to Muffet McGraw and her staff. In the 2015 class, Notre Dame currently holds verbal commitments from No. 7 Marina Mabrey of Manasquan, N.J., and No. 16 Ali Patberg of Indianapolis, Ind.
From Spain To Charlotte
Spanish point guard Laia Raventos of Taradell, Spain, made a verbal commitment to the University North Carolina-Charlotte and its staff. Raventos, a 5-6 point guard, brings an aggressive offensive mentality to floor whenever she plays. She is a highly skilled ball handler with the ability to create off the bounce or orchestrate and make quality decisions playing in the pick and roll. During her prep career, Raventos has been a fixture with the Spanish National team, playing on both the U16 and U17 team's, winning a gold medal at the U16 European Championships and a Silver medal at the U17 World Championships.
Angela Salvadores committed to Duke this week. Here is more: Instant Analysis
AROUND THE RIM
Rice To Illinois: Cierra Rice of Grosse Point, Mich., made a verbal commitment to Illinois this week. Rice, a 5-8 senior combo guard, will give the Big Ten school energy and athleticism in the backcourt positions. The four-star prospect is a very good rebounder for a guard and has the ability to slash and get to the rim offensively.
Anyagaligbo To Stony Brook:Ogechi Anyagaligbo, a 6-1 forward from Miami, Fla., made a verbal commitment to Stony Brook this week. Anyagaligbo has the ability to rebound and defend at a high level and could potentially be a nice offensive contributor later in her college career.
Jackson To UC Irvine: Canadian forward Tayla Jackson of Victoria, B.C., made a verbal commitment to UC Irvine this week. Jackson is a physical forward who plays the game with energy. She has been developing some wing skills that should help her earn minutes early in Southern California.
Portland Picks Up Two: First year Portland head coach Cheryl Sorenson has picked up two guard commitments in the last 10 days. First she landed three-star 5-11 wing prospect Ellie Woerner of Sammamish, Wash. This weekend she landed 5-8 combo guard Darian Slaga of Anthem, Ariz. Look for the Pilots to stay busy in recruiting with the ability to sign as many as six in 2015.