WIR: SEC, ACC Schools Score
Posted
8 years 6 months ago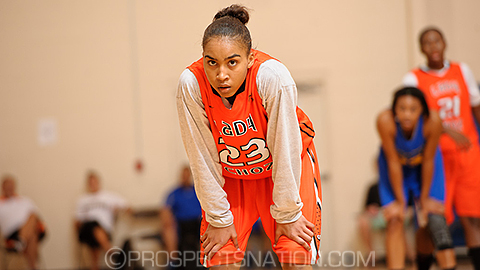 Stephanie Jones chose Boston College over numerous Ivy League schools. *Photo by Ty Freeman.
Tweet
The Southeastern Conference leads this weeks Week in Review with verbal commitments from the 2014 and 2015 class.
Tennessee Keeps Jackson Home
We talked in-depth about class of 2015 wing MeMe Jackson's decision to pick Tennessee here. Jackson, the No. 23 ranked prospect in the class of 2015 ELITE 60, gives the Lady Vols a great jumpstart on their 2015 recruiting class. Look for the Lady Vols to be aggressive on the recruiting trail this spring and summer as this could be a four- or five-player class.
Ole Miss Lands Two 2014's
First-year Mississippi coach Matt Insell has been active on the recruiting trail since taking over the helm at the SEC school. This week some of that effort paid off as they earned verbal commitments from two of the better unsigned seniors in the country as 5-foot-9 wing Kiara Golden of Olive Branch, Miss., and 6-2 forward Kelsey Briggs of Memphis, Tenn., have both made verbal pledge's to Insell and his staff.
Golden is an athletic wing that should be able to make plays on both sides of the ball while Briggs was a highly regarded class of 2013 prospect that committed to Georgetown but came home after summer school and is now late making her college choice. The addition of Golden and Briggs to a recruiting class that includes four-star guards Toree Thompson of Broken Arrow, Okla., and A'Queen Hayes of Horn Lake, Miss., will give Insell a potential impact 2014 recruiting class.
Jones to Boston College
Class of 2015 point guard Stephanie Jones of Piscataway, N.J., was a priority recruiting target for a number of Ivy League schools. Jones, a 5-6 prospect, is a high academic student that made Ivy League schools intrigued by her academic qualifications and on-court ability. This week Jones decided to spurn the Ivy League and head to the ACC to play her college basketball at Boston College.
With her decision, Jones, a four-star prospect, becomes the first commit in the 2015 class to pick the ACC school and gives it a steady lead guard to build around for the future. In its 2014 class, Boston College was able to score verbal commitments from three-star prospects Ashley Kelsick of Palmdale, Calif., and Katie Quandt of Lakeville, Minn. Follow @KeilMoorePSB

Moore is the Director of Scouting for the JumpOffPlus.com National Scouting Report and international scouting report. He has been a member if the women's basketball community for more than six years as a trainer and evaluator. He can be reached at keil@prospectsnation.com.