WWL: Check Me Out NorCal 2015
Posted
8 years 1 month ago

Loretta Kakala of Manteca, Calif., showed poise and power in the paint at Check Me Out NorCal. *Photo by Bev Sopak.
HAYWARD, Calif. – The Check Me Out NorCal Showcase brought more than 70 players from across the west and southwest United States plus a strong showing from British Columbia, Canada, together for a weekend of competition and skill work.
With the Bay Area and Sacramento/Stockton Area supplying a strong base of talent, where is what we learned in this early October weekend.
POST GAME
Post players are the most coveted in the country. Part of it has to do with the scarcity of impact players for the Power 5 conferences. The post play during the showcase proved that the northern half of California has an elite post prospect in each of the next three classes.
In 2017 Loretta Kakala of Manteca, Calif., is the post everyone will talk about, and for good reason. The 6-foot-3 prospect is strong around the basket, can step away and shoot the ball and can control the paint defensively with her shot blocking ability. On day one of the event she was heads up with other highly regarded post prospects and proved she is capable of being a feature player in the post.
The following year Shaylee Harris, a 6-5 player from Redding, Calif., is sure to have schools following her closely. She has the length to change a lot of shots and solid ball skill for her size which will allow her to face-up and make plays.
Fast forward to 2019 and in comes Illa Lane of San Jose, Calif. The 6-3 center has all the makings of a future star in the post. She works for position, finishes well in traffic and isn't afraid of contact. As she gains more experience and gets matchups against players like Kakala and Harris, as she did day one at the Showcase, she'll only get better.
All three of these prospects have strong arguments to be included in the next rankings updates for their respective classes.
DIRTY WORK
One of the intangibles coaches love to celebrate in the post season are the players that do the little things, the dirty work in the paint, the hustle plays, the leadership. As ProspectsNation.com Keil Moore likes to point out, "Those are things coaches look for in March but some overlook in July."
Cydnee Kinslow, a 6-2 forward from Brentwood, Calif., is a Check Me Out Showcase veteran, and even in the sometimes-chaotic moments playing with total strangers, she finds ways to impress. She's physical, tough, and looks to make contact whenever possible. When it comes to the details like setting a real screen, scrapping for a loose ball or battling the bigs in the paint, you can count on this Pepperdine commit.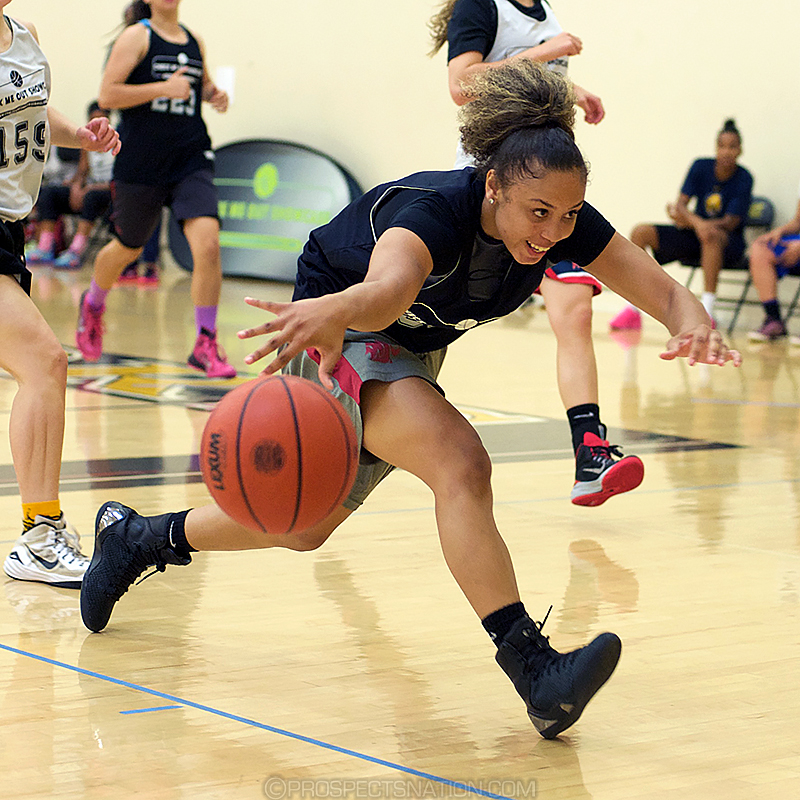 Some players don't fit a traditional position but find ways to get results. Richelle Turney of Elk Grove, Calif., is 5-11 and not the size of most power forwards, and honestly with her ball skill she a power forward, but she battled in the paint like players several inches taller. While she had several nice drives for scores it was the use of her lower body strength to own the offensive glass that stood out the most.
The day one coverage included the play of Nina Bessolo of Hayward, Calif. Her replacement in terms of the role of do it all glue player for the Cal Stars may have been in the building at the Showcase in Courtesy Clark of Sacramento, Calif. She's an elite defender with the physical strength to defend multiple positions. She can score but doesn't need to score to make an impact as was the case for Bessolo last year.
AIR JORDAN(s)
When it comes to ripping the net from long range it was a pair of Jordan's leading the way at Chabot College. Jordan Cruz and Jordan Ott were putting on a clinic of their own on spacing and perimeter shooting.
Cruz, a 5-9 guard from Sacramento, Calif., has about as quick of a release as you will find anywhere in the country and she couples her shooting ability with good handle and feel for the game.
Ott, a 5-8 gunner from Austin, Texas, knows the impact her making shots has on a defense. She catches ready to shoot on every touch and knows how to move without the basketball into open spaces making it hard to close out on her.
Speaking of Jordan's, the younger sister of USC senior Jordan Adams, Jayda Adams, is punching her own ticket to the next level. Jayda, who calls Anaheim, Calif., home, plays the game differently than her older sister, establishing on multiple occasions this fall that her range extends well beyond the 3-point arc.
SLICK WITH IT
In a showcase environment with players have limited team chemistry, there is a slight advantage for players who can create off the dribble. When the offense breaks down dribble penetration can set up shooters or put pressure on the back line of the defense.
Cyd Rivera of Houston, Texas, is shifty and creative with the ball and once she gets some space she elevates really well to knock down pull up jumpers. That elevation makes up for the lack of height. She isn't afraid of contact so she answers the size question quickly.
Sacramento certainly produced ample playmakers for the Showcase. Namiko Adams, a 5-8 junior point guard is at home with the ball in her hands. She scans the floor and loves to create off the dribble. She has good feel on the drive and made numerous passes in traffic. She's a player who would thrive in a dribble-drive system.
Kiara Jefferson of Sacramento, Calif., has good size at the point guard position at 5-9 and has a mind for running a team. She is smooth with the basketball, even under pressure, so she's ready to make the defense pay for mistakes. If this 2018 prospect can become a vocal leader on the court look for her stock to rise quickly next spring.
Already considered one of the top players in the country, Aquira DeCosta, another Sacramento prospect, showed a different side of her game at Check Me Out NorCal. During the high school season she plays in the post exclusively and with the guard depth her team has. But she is explosive with the ball, has plenty of breakdown moves and really just lacks the experience and control of the game to project as a perimeter player right now. Those things are easily addressed
Tatianna Reese of Redwood City, Calif., has a unique blend of size and skill. She has the power in her game to play through contact and while speed isn't a strength, her handle and physicality allows her to make a lot of plays from the perimeter.
Shanaijah Davison of Antelope, Calif., was electric with the ball in her hands. She has breakdown ability and is really difficult to stop in transition as she changes direction at full speed with ease.
Junior guard Alexis Griggsby of Northridge, Calif., made the trip north to the Bay Area and made the most of it. Her length and strength gave her an advantage attacking off the dribble and she used it regularly throughout the weekend.
MOST IMPROVED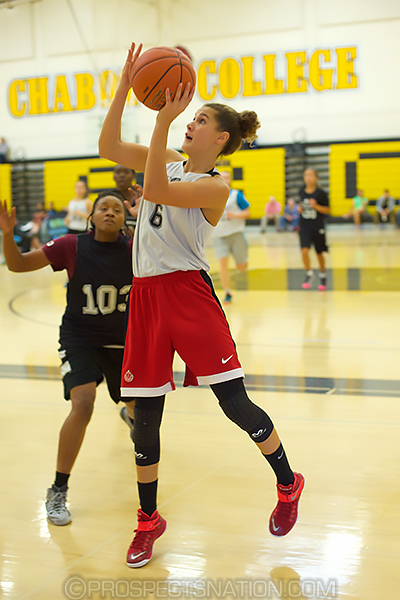 Leave it to a pair of Canadians to show the most growth from the summer to now. Both Taya Hanson and Savannah Dhaliwal have come a long way in a short period of time.
Hanson is an athletic and dynamic guard from Kelowna, B.C., that is now playing with poise that we didn't see in August in Seattle. There is no other explanation than she's been in the gym honing her craft. Dhaliwal of Surrey, B.C., caught our eye back in the early spring at Check Me Out Training Camp and has gotten better each and every time we've watched her play. She has confidence to go with her tenacity and craftiness around the basket. Kudos to the Canucks for their growth in 2015.

Chris Hansen is managing editor of ProspectsNation.com and serves on the McDonald's All-American and Naismith Trophy selection committees. He was the national director of scouting for ESPN HoopGurlz from 2005 until 2012 and is the director of the Check Me Out Showcase. He can be reached at chris@prospectsnation.com.