WWL: Keil Moore Fall Showcase 2014
Posted
8 years 10 months ago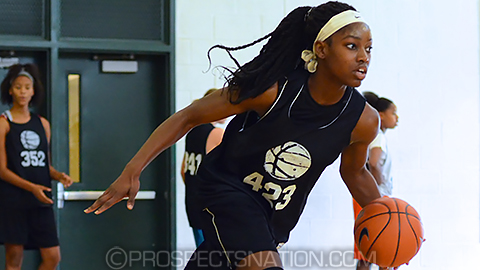 Kaila Charles is one of the top ranked players in the 2016 class and she showed she continues to improve at the Keil Moore Basketball Fall Showcase. *Photo by Chris Hansen.
BRYN MAWR, Pa., and UPPER MARLBORO, Md. -- In it's fourth year, the Northeastern part of the country had a chance to play in front of multiple scouting services and media while also getting top notch skill instruction just before the start of the high school season. Taking to both the Shipley School and Foundation Schools campuses last weekend, here's a look at what we learned from the Keil Moore Basketball Fall Showcase.
1) Wilmoth, Charles, and Johnson came to play
As signing week for the class of 2015 arrives, the class of 2016 becomes a major focus for those in the recruiting world. Three members of the class of 2016 made major statements with their play this weekend -- Kaila Charles of Glendale, Md., Jordan Wilmoth of Washington Township, N.J., and Niya Johnson of Brooklyn, N.Y.
Charles, who is currently ranked as the No. 12 player in the ELITE 60 for the class of 2016, is an elite athlete with a developing offensive skill set. This weekend her energy level elevated the camp and allowed her play to standout, but it was her ability to be a vocal leader that allowed her to prove she I a potential difference maker at the next level.
Standing 6 feet 4, Wilmoth turned heads with her mobility and effectiveness both around the rim and on the perimeter. Wilmoth will have the ability to play both the four and the five at the next level as she is skilled enough to make plays with the ball in her hands but long enough to protect the rim and defend in the post for stretches.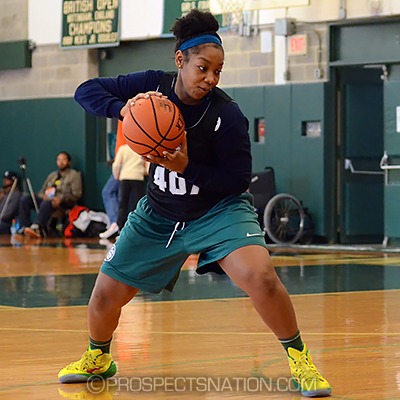 '16 ELITE 60 guard Niya Johnson.
*Photo by Chris Hansen.
At 5-9 Niya Johnson has the potential to be the next great guard from New York City. She has a powerful frame and the ability to score through contact around the basket. One area where Johnson continues to improve is her perimeter jumper. This weekend she shot the ball with confidence and if she is able to make open shots it will allow her to continue to attack the rim and make plays on the move in the paint, which is the strongest part of her game.
2) Youth Movement
Whether it was in Pennsylvania or Maryland, the youth movement was in full effect this weekend as we saw a glimpse into the future. In Pennsylvania we saw 2019 point guard Alana Swift of Philadelphia, Pa., use her elusive handle to create offense for herself and others. The 5-6 point guard has a game beyond her years as she is poised with the ball in her hands.
At 5-4, Alisha Lewis is a true point guard with the ability break a defense down and attack the basket or make shots on the perimeter. Freshman forward Zaria Dorsey of New York, N.Y., is a high level athlete with elite size and, at 6-2, she showed the potential to be an intriguing and versatile front court prospect down the line. Sophomore point guard Sydney Wagner of Philadelphia, Pa., has a polished skill set and the ability to make shots when her feet are set while 2019 point guard Excellanxt Greer of Crofton, Md., has continued to develop and improve her game in each evaluation from our staff.
Not to be outdone, the DMV brought its own high level of intriguing prospects to watch for the future to Maryland. At 6-5, sophomore post Jaala Henry of Glendale, Md., has elite size and mobility for the post position. She has all the tools and if she puts it together she could be an impactful college post player.
Though still a year away from high school ball, 2019 prospect Jayla James of Upper Marlboro, Md., has size and athleticism to compete at a high level on the wing. She can handle the ball on the perimeter and also showed the ability to make shots from distance this weekend. Malu Tshithenge, a 2019 post from Potomac, Va., is an elite shot blocker who showed stretches of dominance scoring the ball in the post this weekend, while 2021 guard Azzi Fudd, also of Potomac, played beyond her years as she showed an basketball I.Q., the athleticism to score the ball at all three levels, all while also showing a competitive drive to win games.
3) There are shot-makers in the Northeast
There were a number of players in the gym this weekend that were deadly from behind the arc. Junior guard Julia Braungart of Southampton, N.J., is a high level shooter with the ability to make shots when her feet are set. Sophomore wing Maryrita Curcio of Bronx, N.Y., has very good size for the wing position and showed this weekend that she can make shots from behind the line as well as off the bounce and on the move. In Maryland, players like Emily Conroe of Fredericksburg, Va., Chanise Ray of Washington, D.C., and Brittany Stawovy of Belle Vernon, Pa., kept defenses honest with their marksmanship. Follow @KeilMoorePSB

Moore is the Director of Scouting for the JumpOffPlus.com National Scouting Report and international scouting report. He has been a member if the women's basketball community for more than six years as a trainer and evaluator. He can be reached at keil@prospectsnation.com.