Young Gun Spotlight From Seattle
Posted
2 years 7 months ago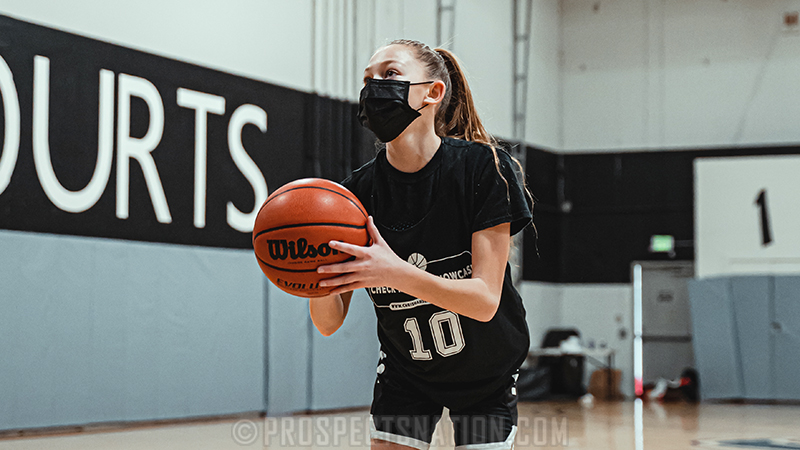 Braylee Pendleton of Selah, Washington, works on her jumper during the spotlight sessions. *Photo by Anthony Lugardo.
SEATTLE – The CheckMeOut Showcase is the premier individual showcase throughout the year in the Pacific Northwest. With elite level talent coming from as far away as Arizona and Minnesota to take part, there was no doubt that the event director Chris Hansen had the place to be for new faces and established names alike this weekend. Brandon Clay Spotlight Shooting Sessions held before hand are designed to give prospects a chance to work on their shooting technique specifically prior to the start of the event:
Madison Lee (Kelso, Wash.), Upper Left Legion – 2026
Lee is a smooth, slender framed guard who still has a world of upside both physically and development wise. It was evident in this setting that Lee's skill package is advanced for a middle school prospect.
Averie Brandt (Wapato, Wash.), Tree of Hope – 2027
Brandt was ready from the opening jump paying tribute to Kobe Bryant with the Grinch 6's on. Brandt has a nice foundation to her jump shot for a young prospect and has plenty of room to build from here with her smooth vibe and footwork.
Kinsey Murray (Port Orchard, Wash.), Total Package – 2027
A left-hand dominant guard, Murray appears to be on track to have the length that translates long term on the wing. She can continue to build on her jump shot release point with that left arm elbow finishing above her eye. Murray's progress will be fun to chart.
Khamille Chappell (Seattle, Wash.), TOH Pacific – 2026
Chappell has good size at an early age. She'll continue to grow and progress the consistency on the release point for her outside shot. As that happens, expect to see even more production on the offensive end for Chappell.
Braylee Pendleton (Selah, Wash.), High Definition – 2026
Pendleton is a slender-framed guard who is just starting to hit her stride skill wise. She's a steady hand in the backcourt at a young age who took instruction and implemented it right away here.
Maryn King (Maple Valley, Wash.), No Days Off – 2026
King has a game that reminds our staff of former camper Brylee Bartram (current Vanderbilt guard) at a young age. Like Bartram was back then, King shows the talent to be a consistent outside threat.
Beebe is a young guard with length. She's going to be a consistent shooting threat over time as she adds a higher release point to her shot. Beebe is one that our staff will have on a radar for years to come.
Abby Sirois (Redmond, Wash.), Way To Win – 2025
Sirois has a legitimate 4-player feel long term with the ability to be effective. Our staff believes that in this new age of basketball, Sirois has a chance to stretch the floor with her outside shot.
The fact that Bennett is already so devoted to improving her craft is noteworthy here. An EliteIsEarned Boost member, Bennett's future is bright as she worked one on one with Class of 2021 guard Malia Smith (Tarleton State signee) during the session. Bennett displayed the ability to pick up on footwork concepts quickly.
Layla Senderson (Vancouver, Wash.), Upper Left Legion – 2025
Senderson is a smooth option as a guard on the perimeter who should be able to play either on or off over time. Though possessing a different type of build, Senderson appears to have a similar type of upside production wise to Class of 2022 guard Abby Graham.
Olson has the size and skill set early to put our staff in the mind of former Alabama standout Hannah Cook. We project Olson as a player capable of stretching the floor with her outside shot coupled with the bounce needed to make plays when she doesn't have the ball as well.
Reese Johnston (Kalama, Wash.), Upper Left Legion – 2026
Johnston is a solid option with good size, length at her age. She showed here that she is already a consistent option 15 and in with the ability to grow her game over time. Johnston's willingness to stay locked in during each drill caught our staff's attention.
Jadlyn Senderson (Vancouver, Wash.), Upper Left Legion – 2025
Sanderson is a slender guard in the backcourt with a world of potential long term. During this session, Sanderson displayed that she has the tools to be a consistent threat on both ends of the hardwood from scoring to defending. Her end-to-end quickness is another asset of note.

Brandon Clay serves as the Director of Scouting for ProspectsNation.com and owns The BrandonClayScouting.com Evaluation Report, which is read by more than 200 colleges and universities nationwide. He also serves as the Executive Skills Director for the Brandon Clay Scouting Academy Series.