Youth Movement At Check Me Out Texas
Posted
6 years 4 months ago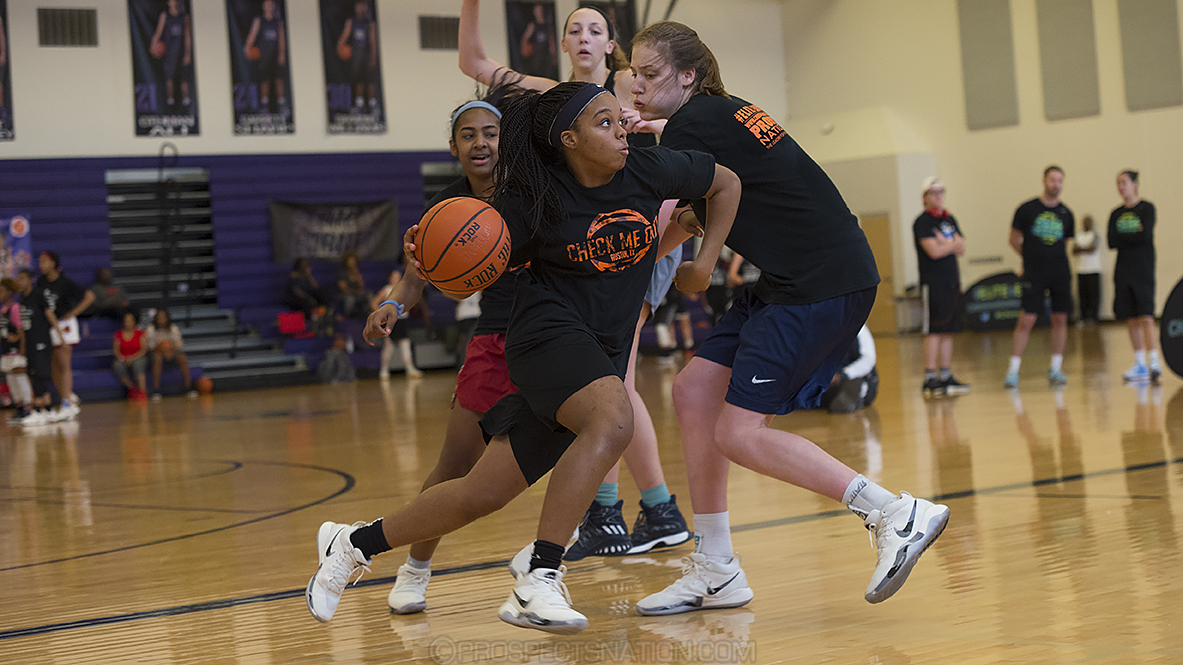 Sarah Andrews attacks with Sedona Prince, Deja Kelly and Taylor Jones in on the action at Check Me Out Texas in Round Rock. *Photo by Chris Hansen.
ROUND ROCK, Texas – The Check Me Out Showcase returned to the Lone Star State this past weekend to work on skills in a highly competitive setting. As the showcase progressed players got a chance to take that skill work into 3 on 3, 4 on 4 and 5 on 5 live games. With a host of well-established, elite players from the Southwest on hand, it provided context for a number of new names and faces to emerge.

Sarah Andrews has the unforgiving task of living up to hype pressed on her at an early age. The ability to handle the expectations and competition with poise is very impressive. From skill work to 3 on 3 and 4 on 4 on Saturday, Andrews impressed with her strength with the ball. When she attacks she gets into the defender's body as well as anyone in her class. Once she got into her defender this weekend she controlled her pace and made terrific finishes. Her change of pace was also eye-catching.
SPOTLIGHT PLAYERS
Sammie Wagner (San Antonio, Texas), SA Finest – 2023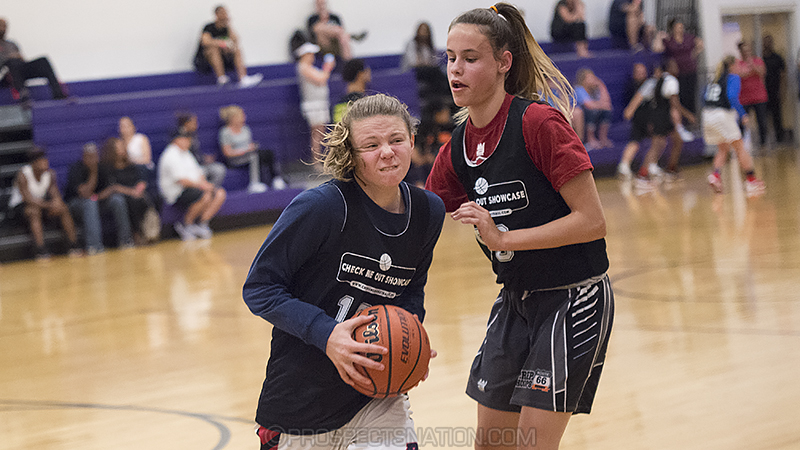 Sammie Wagner has grown into a player who can impact
four different positions on the floor. *Photo by Rob Kinslow.Wagner, a 5-foot-10 swing player out of San Antonio, Texas, was a standout in the underclass division. The class of 2023 small forward is versatile enough to play on the perimeter and handle the ball while being able to post up inside. She is incredibly skilled for her age and she really projects strong energy on the floor. Not to mention her vision to see plays develop is a skill she is mastering. She had a great blind pass under the basket in transition that had players and spectators on their feet with her court sense.
Giana Steward (San Antonio, Texas), SA Finest – 2020
Steward is 5-8 guard out of San Antonio, Texas, that demonstrated a great point guard vibe on the floor. She showed she really understands how to attack defenders at the hip and draw help. Her decision-making was impressive in that setting where she either really committed her attack to the rim, pulled up with balance in the midrange, or had a quick instinct to facilitate when the work was done to get them open. Steward played very sound this weekend, brought visibility to lazy defense, and was opportunistic in her approach.
Madison Griffon (Copperas Cove, Texas), Texas Elite GATA – 2019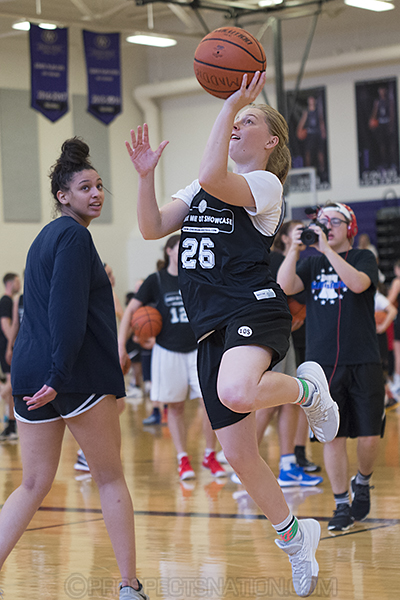 Madison Griffon had a tremendous
weekend at camp. *Photo by Chris
Hansen.Griffon is a point guard in the 2019 class that played with a high motor and all around offensive poise. She was having her way on Sunday in the showcase games knifing through defenses with shifty ball handling. That craft directed her to a lot of assists, shots for herself in the midrange, and the momentum to bury 3-pointers from beyond the arc. With her at the helm, the extra hustle and strong floor leadership led to a very well-balanced scoring attack from a talented group of teammates.
Mia Smith (Plano, Texas), DC Queens White – 2020
Smith is a 5-11 small forward from Plano, Texas, that had a lot of great moments this past weekend. Only a freshman, she showed a lot of athleticism around the basket. She had an impressive reverse layup where she felt the defender on her hip and drop stepped baseline, carrying her into a smooth, elevated finish under the basket. She also showed a lot of activity in the midrange with her short jumper and defensive presence that showcased her ability to contest and reject shots. Smith projects a lot of upside as she continues to build strength and hone her skill set.
AROUND THE RIM
Sarah Gwin, a 5-6 point guard out of San Antonio, Texas, coined herself as a sharpshooter this past weekend. She came out of nowhere with a couple of back-to-back 3-pointers that went in with perfect rotation and were launched with a quick trigger. Prior to this, she facilitated with poise and impressed with her patience to let actions develop.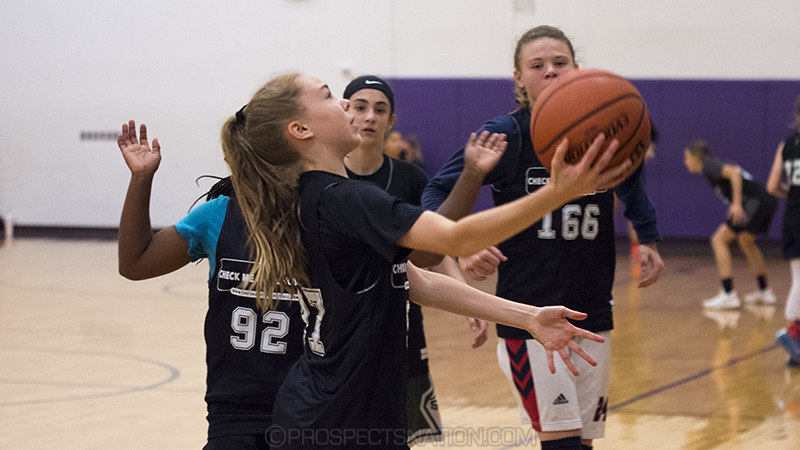 Pace Richard with a scoop shot in Round Rock,
Texas. *Photo by Rob Kinslow.
Pace Rickard, a 5-3 guard in the 2023 class is definitely on our watch list. The young point guard has a savvy court sense and plays fearless. She matched up well against some talented 7th and 8th graders, where she was able to showcase her command handling the ball and strong desire to compete against elite players.
Cassidee Kinslow, a 5-10 wing-forward out of Oakley, California, might be our most veteran Check Me Out Showcase player. Her weekend was cut short on Sunday with an injury, but her morning game was a strong outing for her. She played with a lot of aggressiveness rebounding the ball and was more active on her offensive attack. She had a great play in transition where she took a physical layup in transition and converted it for the and-1.

Wetmore joined ProspectsNation.com in the summer of 2014 after graduating from the University of Washington with a Communications degree. She left Washington as the all-time leader in games played and also played with the softball team in the College World Series. She was the Gatorade State Player of the Year her senior year in high school capping off a career which included three state titles. She can be reached at mercedes@chrishansenbasketball.com.