CMO Bay Area Feature Players
Posted
2 months 3 weeks ago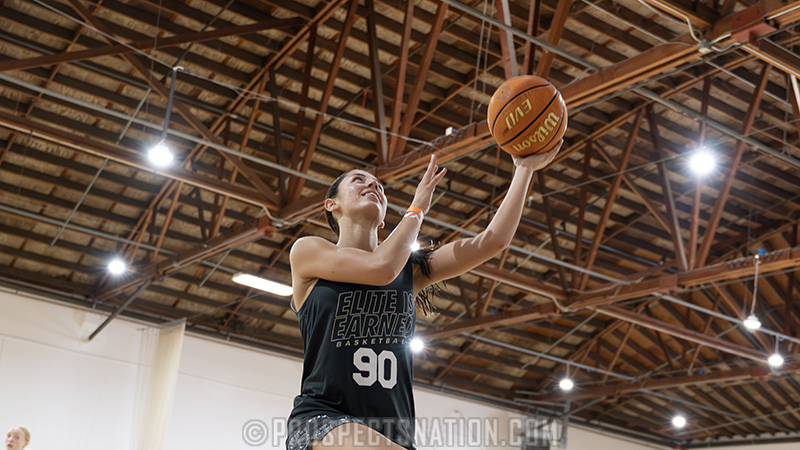 Addie Deal elevates for a bucket at the Bay Area stop of the Elite Is Earned CMO Camp Tour. *Photo by Chris Hansen.
MARTINEZ, California – Time flies and its been a long five years since Elite Is Earned brought the CMO Showcase to the Bay Area. To say it returned in fine fashion would be an understatement. The level of talent was matched by the focus and intensity making for a terrific first day.
The first sense we got that it was going to be a special day came during the pre-camp Feature Player Training Session. The group of seven high school aged athletes got an extra hour of work with the Elite Is Earned staff and we got an instant take on their games.
Addie Deal's competitive drive has propelled her to new heights, showcasing exceptional leadership and peak fitness conditioning along with a higher level of confidence. The game is coming to her easy these days.
Ashley Childers, a versatile front-court talent, combines elite length, finesse, and a soft touch around the rim, making her a standout performer. The 6-foot-2 junior can also stretch the floor shooting from range.
Ariana Hallstrom of San Leandro, California, a speedy and versatile guard. She boasts an athletic build and the ability to excel both on and off the ball.
Sienna Evans of Fresno, California, a lefty perimeter player, possesses a strong frame and good size, complemented by a solid handle and a knack for shooting from long range.
Alani Carranza is another Fresno hooper. She's a smaller guard but is strong and feisty. She proved to be a tenacious competitor who receives instruction delightfully, always eager to improve.
Natalie Neumann, was locked in from the jump. She was quick in applying instructions and demonstrates a sharp shooting ability from distance when her feet are ready and on balance. She impressed with good playmaking ability on the court too.
Ella O'Brien of Petaluma, California, is a sophomore that showcased good size and an impressive ability to handle contact at the rim. She was a force to be reckoned with inside.
James Parker contributed to this report.

Chris Hansen is managing editor of ProspectsNation.com and serves on the McDonald's All-American and Naismith Trophy selection committees. He was a co-founder of and the national director of scouting for ESPN HoopGurlz from 2005 until 2012 and is the director of the Check Me Out Showcase and ELITE is EARNED events. He can be reached at chris@chrishansenbasketball.com.