Posted
8 years 8 months ago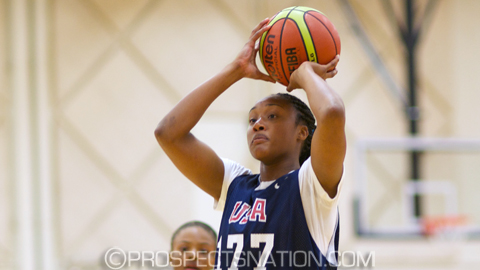 No. 19 Jaelyn Brown is one of the players that could make a jump in the rankings in the next year if she continue to develop her game. *Photo by Chris Hansen.
Tweet
The Rankings Roundtable will cover several topics throughout this week on the recently released PropsectsNation.com ELITE 25 prospect rankings for the Class of 2016. Though this class is still in its infancy, our rankings panel will discuss what they've seen so far.
Is there a player already in the ELITE 25 that you think can make a jump in the next 12 months?
I see No. 19 Jaelyn Brown of Murietta, Calif., as a potential riser over the next 12 months for two reasons. The first being her demonstrated talent. She's got the physical tools to be the next in a line of west coast big wings. The second is the improvement she showed from April through July. She played brilliant in stretches with the Cal Sparks this summer and showed her confidence and understanding in games situations is coming together. She's a matchup nightmare as her improved jumper means you cannot sag off of her defensively and that's when the athleticism and length make her a potential top 10 prospect.
-- Chris Hansen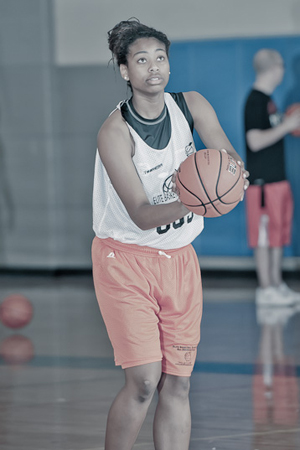 '16 ELITE 25 post Erika Cassell.
*Photo by Ty Freeman.
I'm excited to see Erika Cassell of Marietta, Ga., come back from her anterior-cruciate ligament injury this high school season. Through her first summer and high school season as a high school aged prospect she was one of the more dominant freshman in the country. Leading her summer team to an AAU National Championship and her high school team to a deep run in states. If she can just return to form she is already doing something, but if she can get healthy and show signs of growth, look out.
-- Keil Moore
Erin Boley of Elizabethtown, Ky., has all of the physical tools to become a top 10 prospect overall in this class. Her performance at the EBA Fab Five Camp in September had shades of current Notre Dame freshman Taya Reimer written all over it. Reimer finished ranked No. 4 overall in the class of 2013, was a two-game All-American and is poised to have a stellar opening season in South Bend. Like Reimer, Boley is a versatile prospect who could play the small forward position but is a much tougher cover for opposing teams at the power forward position. Boley is capable of knocking down the open 3-pointer, attacking the paint to score and is a consistent force on the glass rebounding the basketball. With three high school seasons remaining, earning a fifth star is not out of the question.
-- Brandon Clay
Lena Nieng of Bowie, Md. is one of the young kids that I highlighted in my notes from the Tip-Off Classic in April of this year. The athletic 6-2 forward put me in the mind of class of 2015 Caliya Robinson with her ability to impact the glass while also being able to face-up in the high post. She has the potential to be a difference maker from the forward position. Given what I have seen from the young prospect, I believe that her ceiling is as high as many in the class. It will be interesting to watch her development as she has recently moved from Alabama to her current home in Maryland.
-- Jonathan Hemingway
---
Follow @BrandonClayPSB
Clay is the owner of the JumpOffPlus.com International Scouting Report, PeachStateBasketball.com and ProspectsNation.com. He can be reached at brandon@prospectsnation.com.
Follow @ChrisHansenPSB

Hansen is managing editor of ProspectsNation.com and a McDonald's All-American selection committee member. He was the national director of scouting for ESPN HoopGurlz from 2005 until 2012. He can be reached at chris@prospectsnation.com.
Follow @JLHemingwayPSB

Hemingway is the Assistant Director of Scouting for the JumpOffPlus.com National Scouting Report. He can be reached at jonathanhemingway@peachstatebasketball.com.
Follow @KeilMoorePSB

Moore is the Director of Scouting for the JumpOffPlus.com National Scouting Report and international scouting report. He has been a member if the women's basketball community for more than six years as a trainer and evaluator. He can be reached at keil@prospectsnation.com.