Elite Is Earned Friday Night Stars
Posted
5 years 7 months ago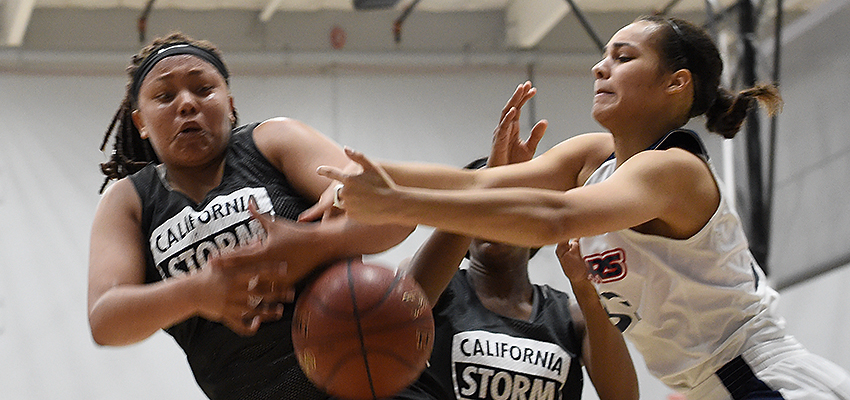 Skylar Tyson-Stockey of the Cal Storm Bay Area battles for a rebound. *Photo by Glenn Nelson.
WALNUT CREEK, California – The 3rd Annual Elite is Earned Spring Invitational saw a majority of the 74 teams compete in exhibition and bracket play. Here's a sneak peak at some day one standouts before the event shifts to quarterfinal and semifinal action Saturday.
Skylar Tyson-Stockey (Oakland, Calif.), Cal Storm Bay Area – 2020
Tyson-Stockey has really good feet and hands, especially in tight spaces in the key. She is goof at creating her own shot off one or two dribbles from the mid post. The 6-foot swing player can hit a short jumper or attack and spin hard and finish with contact. Her ability to use her body, take contact on the ground or in the air, and then finish was very impressive Friday. She has potential to impact the floor defensively if she chooses to. She impressed with her skillset and ability to keep body control and finish regardless of her height disadvantage inside.
Kyla Vinson (Portland, Oregon), NW Stars Red – 2020
Vinson is a great athlete with decent size. She has a strong basketball body and likes to use that to her advantage when driving to the basket and having to finish. She crashes the boards hard on both ends of the floor and always fights for every 50-50 ball. She has a good looking shot and made clutch 3-pointers down the stretch of a close game. She is really good at getting downhill and making her way into the key and as she adds more to her finishing repertoire, her impact will only grow.
Taryn Johnson (San Diego, Calif.), Waves K-Plum Elite 15 – 2022
Johnson, an explosive athlete, can out jump most players on the boards. She knows when to time her jumps so that she can get a touch on the ball even when a taller player is fighting for the board against a player who has a size advantage. It's fun seeing her get a tough defensive rebound and take it coast to coast for a layup. She has a serious motor and leaves everything on the court. She is also a player that doesn't allow soft passes across the court when they are in a press. She flies through passing lanes and gets steals that most kids don't have the athletic ability or length to reach. Improving her perimeter consistency will take her game to the next level.
Rain Sheh (San Francisco, Calif), Bay City Select – 2020
Sheh is only 5-3 but that never stops her from making plays and being a huge factor offensively and defensively. She is shifty with the ball and gets defenders to shift their weight and then she attacks. Her ability to lift and shift defense to either get her shot off or create for her teammates was a major key to her teams' offense. In transition she can also manipulate the ball while she is in the air to avoid being blocked by a larger defender. As she adds range to her game she will keep defenders honest and unable to go under ball screens.
Corral is a former professional player, standout at USC and a high school All American. She is the owner of Ashley Corral Performance Training and is a lead trainer for the Check Me Out Showcase camps. She is a contributor to the ELITE is EARNED Report as well.