Feature Player: Emily Beard Update
Posted
7 years 4 months ago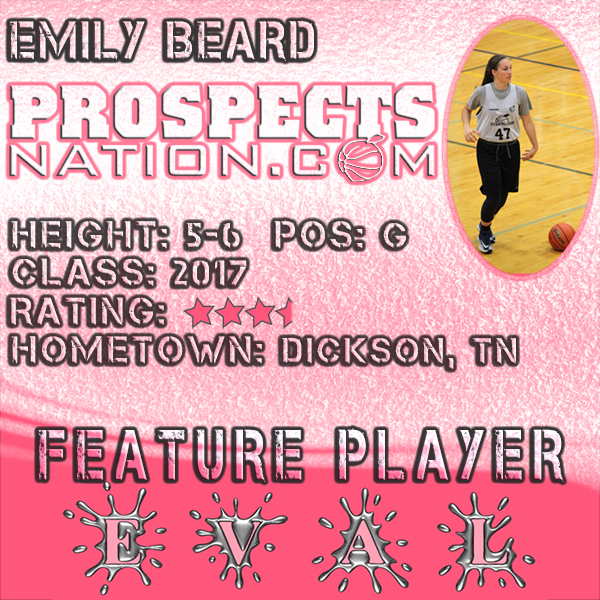 Class of 2017 guard Emily Beard of Dickson, Tenn., showcased her game in front of our staff at the CoachHemi.com Workout last month. Coming off of a stellar school season where she led her Dickson County High Schol team to a 32-3 record, we take an in-depth look at her progress:
Strengths
We talked at the end of last year about Beard's ability to make the open shot. This school season showed us more of the same. She led the state of Tennessee in 3-point shooting percentage en route to averaging 14.6 points per game. Beard has also displayed the ability to fill up a stat line averaging 3.1 assists, 2.9 rebounds and 1.8 steals per game as well. The assists were a category that she aimed to work on coming out of her freshman campaign and showed growth there this year. Beard's skill set allows her to consistently make the right read on opposing defenses as they close out to her on the perimeter. When that happens, she is able to put the ball on the hardwood and create a shot for herself or for a teammate.
Area To Improve
After beginning to address her assist to turnover ratio this season, we expect Beard to turn her attention to leading vocally on the floor. Adding that leadership quality to her arsenal will only help to enhance the assist to turnover ratio while also allowing her to be even more effective on the defensive end of the floor as well. She is a good athlete who should be able to play up line into passing lanes when need be at the college level.
The Bottom Line
We view Beard as a prospect who can make a variety of positive things happen when she steps on the court. She gets it done in the classroom as well sporting a 3.5 grade point average. Based on Beard's school season and showing at the CoachHemi.com Workout, we've upgraded her star rating to a 3-star plus. She's on the cusp of having a breakthrough club season this year and earned an invite to the Elite Basketball Academy Super 64 Camp on June 6-7.
#ProspectsNationTV: Recruiting Analyst Brandon Clay and Video Coordinator Kris Watkins team up to break down Beard's game

Brandon Clay serves as the WNBA Director of Scouting for ProspectsNation.com and owns The JumpOffPlus.com International Report, which is picked up by more than 150 colleges and universities nationwide. He serves as the Executive Camp Director for the Elite Basketball Academy Camps. He serves on the Naismith Trophy Men's / Women's College Player of the Year Academy and is chairman of the HS Boys / Girls Board of Selectors.