Second Look: Iowa Spotlights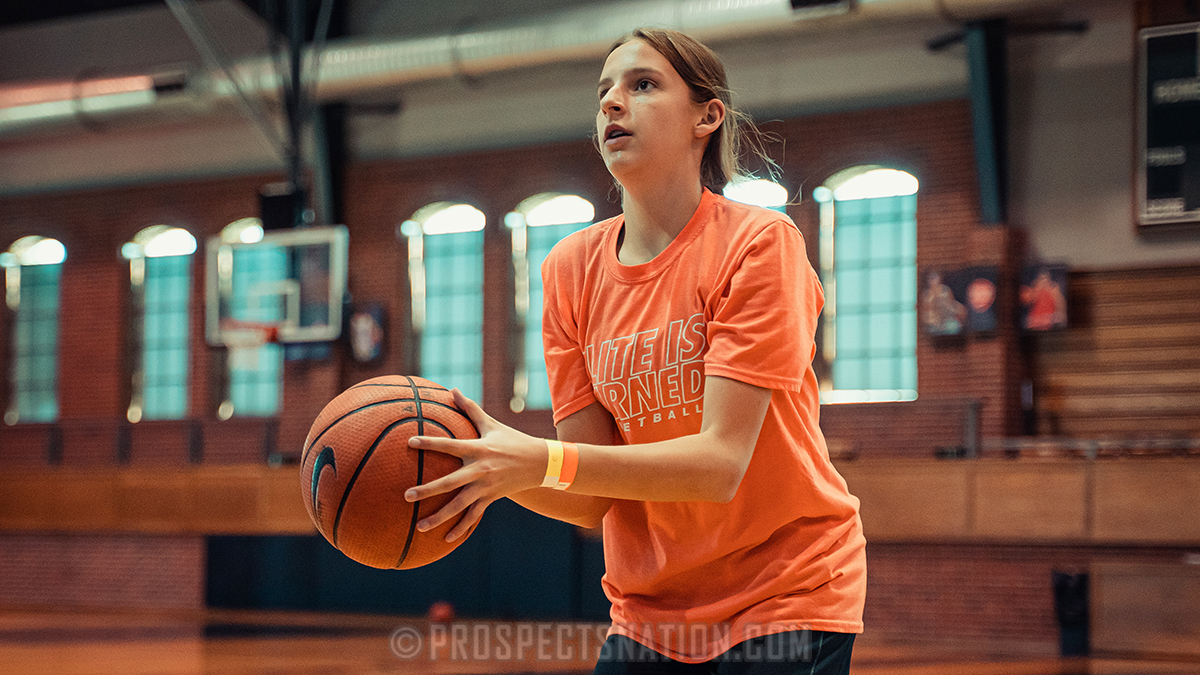 Mari Miller of Columbia, Missouri was back in the gym with us in Iowa, locked in on making the next step in her development. *Photo by Anthony Lugardo.
AMES, Iowa - The 2021 Check Me Out Midwest Showcase saw players from multiple regions of the country train and compete in Iowa. With staff of both Brandon Clay Training and Elite Is Earned Basketball in the mix, the competition was fierce featuring some of the nation's top players.
Holman has a fantastic skill set that has rounded out since our last eval here a year ago. She is a smooth shot maker from the perimeter with range to the 3-point line. She has a consistent shooting pocket with a clean release on her shot. Holman still has so much room for growth over the next year as she learns to stick the landing each and every time.
Like her older sister, Holman seems to have a really high ceiling going forward. All of the tools to be a shot maker are there for the young prospect. Holman's disposition in this setting of older kids who have a name for themselves was ideal. When she stays after the shot and doesn't leave, Holman is advanced for her age without question.
Lawson is such a high level communicator that she caught my attention in the first half hour of the session. Her energy level almost seems to will her shot in when she misses a couple in a row. Lawson fades at times on her jump shot but has really shown another level of growth on her mechanics in the past year.
Miller has grown since our eval from last year. She has the length and skill set to make plays from the wing. When Miller's elbow is high on her release, more times than not her shot is falling consistently as a result even out to the 3-point line. Keep an eye on her development in that area as it is a potential game changer over the next 12 months.
This was my first training session with Sheehy. It was evident that she has room to keep growing based on her performance here. Consistency in Sheehy's shooting form will be a place for emphasis going forward. She will be in a great position this time next year as she continues to work on her shot form.
When Boyle's elbow level is above her eye, positive results seem to occur. Her feet were consistently underneath her shoulders here giving her a base to change direction on a dime when need be. Boyle's touch on her shot is both steady and soft on the rim in the occasion that it isn't all net.
Compton's blend of size and skill at the guard spot was on full display here. She's strong enough already to make things happen around the rim while making outside shots when the ball stays on her fingertips. Compton is a potential difference maker on the wing when she keeps the ball out of the palm of her hand on the shot.
Paeyln Gilmore (Republic, MO), 417 Force – 2027
Gilmore is a hard working, confident shot taker. In this setting, she showed herself as a guard with the tools in her long term arsenal to be a shot maker from deep. Continuing to grow in her skill to the inside foot plant in either direction off the move in key. In doing that, her shooting pocket will naturally smooth out only increasing her percentage.
Lakyn Donnelly (Horace, N.D.), North Tartan – 2028
It's safe to assume that this will be the first of many sessions with Donnelly. She is a smooth operator with the ball in her hands already. In that regard, Donnelly is a more than capable shot maker and play creator despite her young age in this group. As she fills out physically, her release point will improve as a result.

Brandon Clay serves as the Director of Scouting for ProspectsNation.com and owns The BrandonClayScouting.com Evaluation Report, which is read by more than 200 colleges and universities nationwide. He also serves as the Executive Skills Director for the Brandon Clay Scouting Academy Series.