Spring Showdown Championship Day
Posted
7 years 8 months ago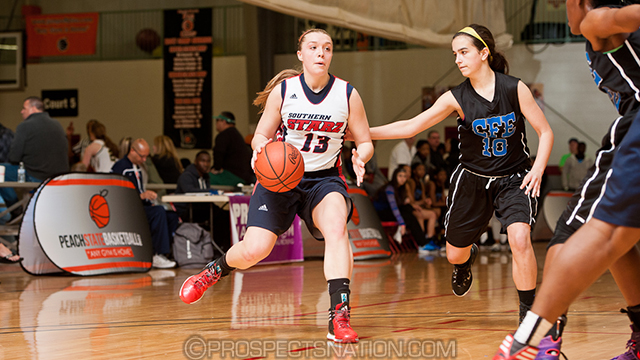 SUWANEE, Ga., - Last Sunday concluded the PSB Spring Showdown with 16 teams competing for championships on the floors of Suwanee Sports Academy. While many teams are still ironing out the rough edges, there were a number of teams that are primed to make a big splash on the travel circuit. We also got a first-hand look at which prospects stood out at the beginning of this travel season.

Akia Harris (Chattanooga, Tenn.), Tennessee Xtreme – 2016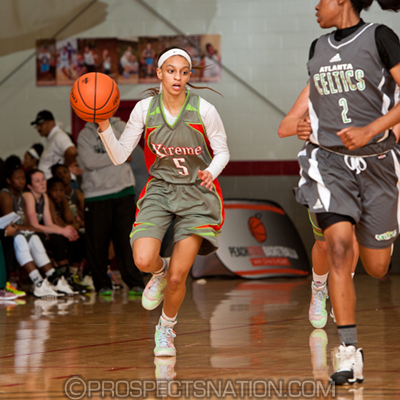 After finding her team down double digits midway through the first half to the Atlanta Lady Celtics, Harris energized a comeback for her team. The 5-foot-5 point guard took on ballhandling responsibilities, which proved to be a key adjustment against the Atlanta Celtics pressure defense. Her ability to attack the paint kept the opposing defenders out of the passing lanes. This created room for shooters like Carley Shuler, Megan Lewis and Kathaleen Alomar on the wings. As a result, her Tennessee Xtreme team ran away with a championship win in the @BrandonClayPSB bracket.
The strength of Harris' game is her ability to blend being a primary ball handler with being a legitimate guard scorer. As she showed in the championship game, Harris shot the pull-up jumper in the lane efficiently. Her soft shooting touch gives her consistency off the move and behind the 3-point arc. Harris is a terrific dual threat backcourt player who is able to balance involving her teammates with being a scorer. Keep an eye on Harris this spring as she is one of the top guards regionally in her class.
Spotlight Players
Lindsey Marchese (Lawrenceville, Ga.), Team Elite Pointer EYBL – 2017
Coach Kirk Pointer has no shortage of height when you look at his roster. However, the addition of Marchese appears to be a very significant long-term addition. The 6-3 post not only brings more size, but she also brings scoring ability that is valuable in competitive games. This weekend she showed the willingness to seal defenders into the lane while having the poise to catch post feeds in traffic. Her soft touch around the rim makes her a threat to score every time she catches the ball with her back to the basket. On the defensive end Marchese plays solid position defense and uses her body to wall up against attacking opponents. Watch for her to become a name that is spoken about more often this spring and summer while she plays with Team Elite.
Haley Troup (Gadsden, Ala.), Alabama Southern Starz - 2017
The 5-9 shooting guard was huge in the Alabama Southern Starz championship win. The sharpshooter connected on multiple 3-pointers and made plays on both ends of the floor. She has a quick release and ball skill that allows her to keep the ball moving in the half court. Troup provides the perfect complement to point guard Myah Taylor of Olive Branch, Miss., and post Unique Thompson of Theodore, Ala., on coach Doug Bush's sophomore team. Her ability to stretch the floor gives her teammates plenty of space to work with on offense. Given her skill set and production, Troup emerged as one of the best new names of the tournament.
Bracket Champions and Top Performers:

Team Elite Hubbard Freshman won the @ChrisHansenPSB bracket with the help of the 14 points scored by class of 2018 prospect Asia McCoy of Grayson, Ga.
The Alabama Southern Starz eighth grade team won the @KrisWatkinsPSB bracket. They were led in scoring by class of 2019 forward Jasmine Gracie of Huntsville, Ala. She led all scorers with 16 points.
The @StephenPeckPSB bracket was taken by Team Elite Sophomore on Sunday morning. Class of 2017 point guard Saadia Munford of Jonesboro, Ga., led the way with 13 points in the win.
Alabama Southern Starz won another bracket division. This time it was their Sophomore team that won the @KeilMoorePSB bracket with the help of class of 2017 wing Haley Troup who scored a game high 15 points.
Team Elite Pointer Junior took home the @JLHemingwayPSB bracket championship. Class of 2017 wing Quanniecia Morrison of Powder Springs, Ga., led the way for Kirk Pointers' bunch with 15 points.
CFE Select received a balanced scoring effort to take home the @VinceSmithPSB championship. Class of 2016 wing Denise Daniels of Orlando, Fla., and class of 2016 guard Daniella Hatcher of Orlando, Fla., both scored 13 in the win.
Team Elite Hansberry completed a clean sweep of bracket championships for all of Kirk Pointer's organization by winning the @ProspectsNation bracket. Class of 2018 Kennedy Hansberry of Atlanta, Ga., scored a team high nine points.
Tennessee Xtreme Dru won the day's final bracket championship of the day by knocking off the Atlanta Lady Celtics for the @BrandonClayPSB division. Class of 2016 post Maddie Wright of Chattanooga, Tenn., scored a team high 10 points in the win.

Hemingway is the Assistant Director of Scouting for the JumpOffPlus.com National Scouting Report and is on the Naismith Trophy Awards selection committee. He can be reached at jonathanhemingway@peachstatebasketball.com.

Peck is the owner of Dream In Motion Athletics and is a national evaluator for the JumpOffPlus.com National Scouting Report. He also serves as a on-floor skills coach at the Elite Basketball Academy events. He can be reached at StephenPeck@peachstatebasketball.com.