West Coast Shines In Seattle
Posted
1 year 11 months ago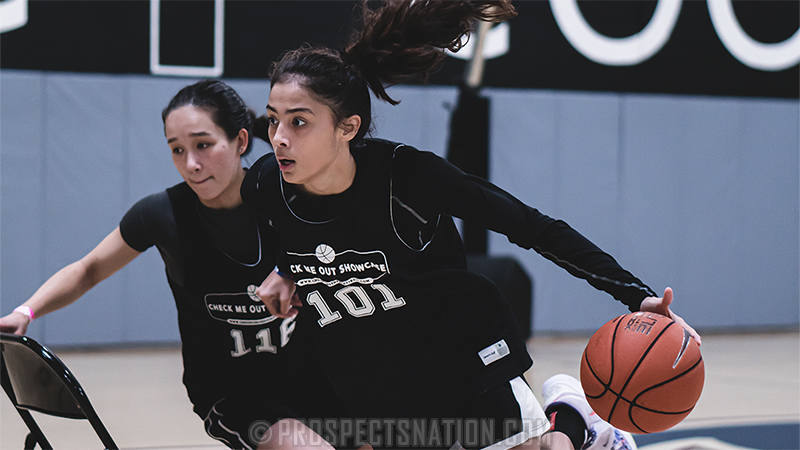 Katie Fiso, class of 2024, battles Kiera Hanson, class of 2022, compete, allowing two of the top point guards out west to sharpen their skills against each other. *Photo by Calvin Koo.
NEWCASTLE, Washington -- The 2020 Check Me Out Showcase, the flagship individual event from Elite Is Earned Basketball, saw players from six states head to Pacific Courts to compete and train together. In a year where opportunities out west have been severely limited, the level of competition was incredible, showing the future is bright and the players have stayed active during the quarantine.
Here's a look at just some of the standouts from the three sessions in the Emerald City.
When you get on the radar early in your career sometimes expectations weigh on a player's development. Samuels seems to be immune to that pressure. She steps on the floor focused on the work. Her skill set as a floor leader at the point is well documented. It's nice to see her confidence growing shooting the ball from deep. She's getting the best from whoever matches up with her and she's up for the challenge every time out.
Ryann Bennett (Lakewood, CA), Cal Sparks – 2024

Ryann Bennette of Lakewood, California, at CMO
Seattle 2020. *Photo by Calvin Koo.Bennett is a master at changing pace with the ball. She lulled defenders to sleep then showed her real quickness and was gone. In this outing she was a leader on the floor that other players reacted to well. She showed the makings of a player who can impact the game on both ends.
Atheena Tomlinson (Clovis, CA), Cal Sparks – 2024
Tomlinson is the basketball version of the Energizer Bunny. She brings so much energy to the floor it raises the level of everyone on the floor with her. Her matchup up head to head with Samuels was one of the most exciting parts of the event. The two challenged each other, had counters ready and seemed to relish the chance to sharpen each other's games. For those that go back a decade they'll be remined of former UConn point guard Lorin Dixon.
Graham is a fierce competitor on the floor which is a dangerous attribute to fuse with her skill set. The 5-10 2022 prospect can play all three perimeter positions. Her strength makes her a real problem on the drive because she can finish with contact or extend plays and find teammates. Her range extends beyond the high school three line and she is really growing in creating separation, even against good defenders.
Coppinger is such an interesting prospect because she's effective in so many areas. She has a high skill level for age but rarely overdoes anything with flash. She can break defenders down without dancing a lot. She rebounded the ball well from the guard position and showed the basketball I.Q. to get the ball where it needed to be. Expect her to be one on the list for most of the Pac-12.
Fiso, like Samuels, is on the national radar at an early age. She's a competitor that seeks out matchups that can challenge her. She's a shifty and long point guard prospect who really attacks her skill work. She's making progress attacking and finishing with her left and once that comes along her ability to create for herself and her teammates will be limitless. For a player coming back off a minor injury that cost her a couple months of training she was surpringly sharp.
Majesty Cade (Riverside, CA), Cal Sparks – 2023
Cade is a guard prospect with big energy and upside. The 5-9 perimeter product has the frame and athleticism to play multiple positions and make an impact. She's was most effective in downhill drives. She was comfortable shooting out to mid-range. If she expands her range to keep defenders honest it will only allow her to attack even more effectively.
Villa is a 6-1 perimeter player who is already landing Pac-12 offers. This weekend we saw her not only shoot the ball well, we've come to expect that now, but as she's grown, she's showing she knows how to use her size. Villa's offensive skill set should have her in the running to be one of the most sought after recruits from the Pacific Northwest in the 2023 class.
We first got on the court with Robinson in February while she was still in middle school. Eight months later she's become a completely different player. Her power off the bounce, competitive nature and ball skill have her on a great trajectory in what is shaping up to be a loaded 2024 class at the guard in California. She's playing the game with much more control and has extended her range to keep her defender under constant pressure.
It's been some time since we've seen a player improve so drastically in a single summer, especially with COVID-19 limitations. But Stewart has made leaps in her perimeter shooting, has become strong with the ball in her hands and continues to be a relentless defender. The available 2021 combo guard would be an absolute steal in the CCAA, GNAC or Pac West leagues.
Smith, of Kirkland, Washington, is one of the Evergreen State's top 2022 prospects. At 5-7 now she has the size to use her ball skill and ability to create at either the point or off guard positions. She has a smoothness to her game that shows up even more when defenders try to pressure her.
Available 2021 wing-forward, Sireni, showed tremendous growth in her game. The 6-0 swing player has good size and mobility and she has a knack for getting her shot off. She's added quite a bit of strength and that gives her so much more balance. She's always competed hard and her game is really taking off. In the region she is one of the top seniors still on the board.
Saric is a player to watch in the 2022 class. The 6-1 guard brings length to the perimeter. She showed she can finish with either hand at the rim and she used her size to protect the ball in traffic. She shot the ball well last summer with us in the Bay Area but seems to have lifted her release point and become even more lethal from 3-point range.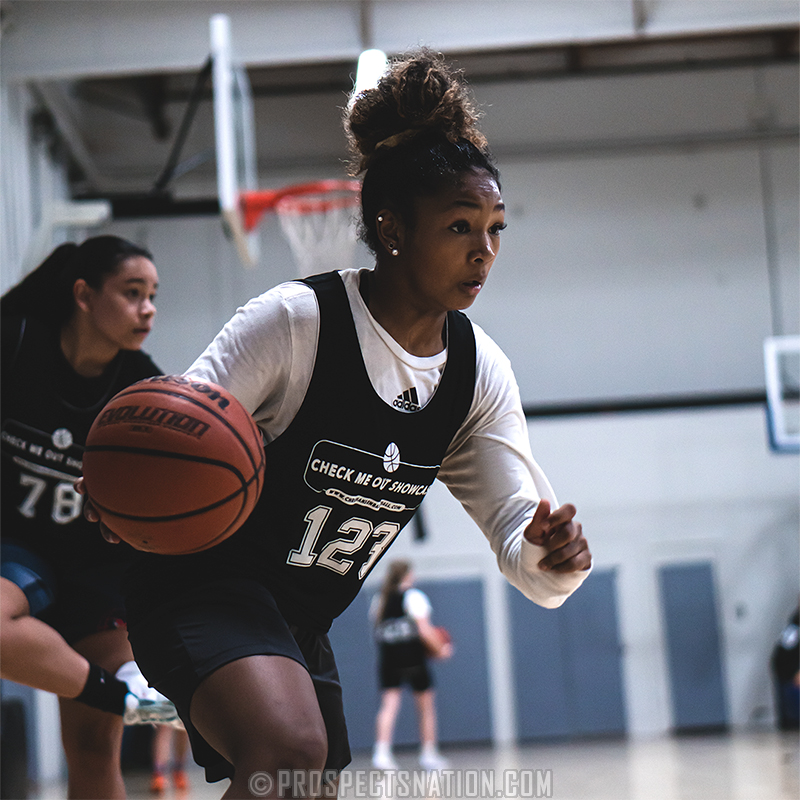 Malia Samuels, a standout 2023 prospect, represented for her home state at CMO Seattle. *Photo by Calvin Koo.
AROUND THE RIM
Rylee Leishman of Ellensburg, Washington, has been in the gym with us since the fourth grade. She's a tremendous competitor and now at 5-6 she has the size to take her tenacity and make players on both ends. She shot lights out on the weekend as well.
Naomi Hotchkiss was back with us the and 6-2 frontcourt prospect is making strides. Her size will draw attention as will her mobility for a post. Her skill set continues to improve each time we see her.
Joy Haltom of Kirkland, Washington, is a model of consistency on the court. She's a combo guard is her skill set and the 2023 prospect is a player that is effective playing with great players and getting the ball where it should be.
Malia Smith of Snohomish, Washington, has done nothing in the past year but prove she's one of the premier shooters in the country. The available 2021 combo guard used the weekend's high level of competition to show her game translates well to the next level.
Seini Tuipulotu of Reno, Nevada, is an intriguing scoring guard option. The 5-8 prospect has length in her frame that had her playing taller than her listed height. She is strong on the drive and played with good energy.
Kiera Hanson of Bellevue, Washington, was dynamite this summer at Training Camp an her play at the showcase solidified she should be a highly sought after Division I point guard prospect and her classroom game puts everything in play for her, including the Ivy League.