Posted
9 years 6 months ago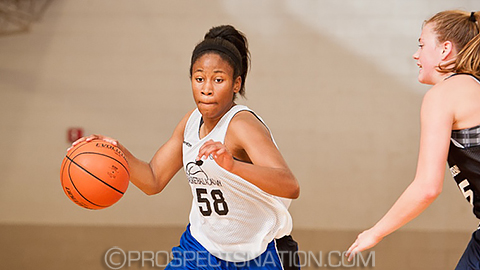 Tyasha Freeman stepped up as the next Hoosier State star to shine at EBA Super 64. *Photo by Ty Freeman.
Tweet
SUWANEE, Ga. – The 2014 Elite Basketball Academy Super 64 Camp is in the books and with it we learned several things about the current recruiting landscape.
HEBARD RISES TO THE OCCASION
Class of 2016 post Ruthy Hebard of Fairbanks, Alaska, made a lasting impact with her play this weekend. Elite showcase camps like this are made for players of Hebard's ilk. As a prospect from Alaska she was a bit under the radar from a recruiting standpoint and after a weekend like she had at Super 64 Camp that is sure to change. Hebard, who stands 6 feet 2, is an elite athlete with elite length. While her game still lacks ideal polish, she plays with enough energy to still be highly effective. She blocks shots at a high rate and will go around the rim and rebound the basketball. Offensively Hebard is effective in space and can even make a face-up jumper. Hebard matched up with some quality post players such as class of 2015 prospect Victoria Harris and class of 2016 ELITE 60 post Erica Cassell and managed to compete at the same level as both.
PLAYMAKING GUARDS SHINE
Camp settings are great for guards who can make plays off the bounce and thrive in one-on-one situations. With loose structure and the freedom to freelance, individual playmaking is an attribute that shows well and this weekend we had a number of quality playmakers in the gym.
Class of 2016 combo guard Oliana Squires of Colorado Springs, Colo., made a lasting impression this weekend. Squires is a shifty guard with a nice mid-range game. She has the ability to get into gaps off the bounce and when she can get room and rhythm she shoots the ball at a high percentage.
Michigan State verbal Taryn McCutcheon of Huntington, W.Va., is another guard who is a tough one-on-one cover. McCutcheon's ability to make long jumpers off the dribble forces defenders to invade her space allowing her to use her handles to go by them and attack the rim.
Tyra Johnson of Decatur, Ala., a class of 2016 point guard, is another tough one-on-one cover. Johnson, who just might be the best one-on-one player in the class, has the ability to leave defenses standing flat-footed. As she continues to learn how to get into the second level and finish plays, she could be quite the dynamic point guard.
WHO'S YOUR HOOISER STAR
Last summer a class of 2015 point guard from the Hoosier state turned heads at EBA Super 64 Camp and, although she was already committed to a major Division I program, Notre Dame, Ali Patberg of Indianapolis, Ind., shined bright at the EBA event. This year another Hoosier state point guard, Tyasha Harris of Indianapolis, Ind., a 2016 prospect, make a very similar impact. Harris is an electric guard who plays the game with pace and poise. She has the ability to make the home run play but knows how to keep the game simple and make the right plays as well. She was effective this weekend from start to finish and her ability to make plays on offense was as good as her ability to make plays on defense. Harris, who ProspectsNation.com currently has ranked as the No. 8 point guard in the country, showed that she was very worthy of that position, if not higher, this weekend.
AROUND THE RIM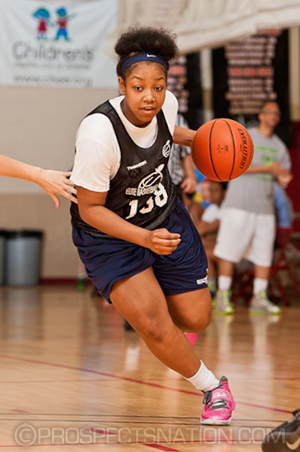 '16 New Yorker Niya Johnson.
*Photo by Ty Freeman.
♦ Peyton Walker of Lithia, Fla., made it impossible for us to not notice her. The class of 2015 prospect plays the game with energy and enthusiasm. She makes the effort plays that help teams win games. A loose ball here, an offensive rebound there and it's always Walker who is around to make the play.
♦ Niya Johnson of New York, N.Y., had a very productive weekend in suburban Atlanta. Johnson, a class of 2016 prospect, is a skilled guard who knows how to score the ball. She can create her own shot off the dribble or catch and make an open jumper.
♦ We had a number of quality shooters in the gym this weekend but Anna Kelly of Lexington, Mass., might have been right there towards the top of the list. Kelly is a specialist as far as perimeter shooting goes. If her feet are set she is very accurate from long distance.
♦ Class of 2015 point guard Adrianna Murphy of Fishers, Ind., is a lighting rod at the point guard position. Murphy was one of the quickest players in the gym and when she can play in transition and push the tempo good things happen for her team. Follow @KeilMoorePSB

Moore is the Director of Scouting for the JumpOffPlus.com National Scouting Report and international scouting report. He has been a member if the women's basketball community for more than six years as a trainer and evaluator. He can be reached at keil@prospectsnation.com.